William Paterson University Names New President; Dr. Kathleen Waldron, Former President of Baruch College and Former Senior Executive at Citigroup, to Become Institution's Seventh President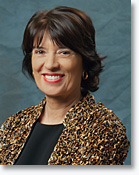 Kathleen Waldron, Ph.D., the former president of Baruch College and a former senior executive at Citigroup, has been appointed the seventh president of William Paterson University in Wayne after a nationwide search. Her appointment is effective August 2, 2010.
"Today, the needs of our students and the many other constituents we serve for intellectual, civic, economic, and personal empowerment have never been more important or more urgent," says Vincent J. Mazzola '73, chair of the William Paterson University Board of Trustees. "At this critical juncture in our future, the board is confident that, in Dr. Waldron, we have found a strong leader to inspire and guide us in capitalizing on the many strengths and values of our history, enhancing the public visibility and reputation of the University, and using our talents and our shared commitment to advance our collective hopes and dreams for William Paterson."
"The board looks forward to a strong working partnership with President Waldron in leading William Paterson University to develop and promote its fullest potential," Mazzola adds. "We are confident that the University faculty and staff, students, our dedicated alumni and our extended community will join the board in this partnership. Working together, the best days for William Paterson University are ahead."
"I am very honored and excited to serve as the next president of William Paterson University. The University is well positioned to extend its services to the people of New Jersey and beyond with excellent academic programs and a thriving campus," says Waldron. "I look forward to working with the trustees, the administration, the faculty, staff and students to strengthen University resources and enhance the educational experience of all students."
Waldron served as president of Baruch College of the City University of New York (CUNY), one of the most selective public colleges in the northeast, from 2004 to 2009, and led the college to achieve national rankings in its business and public affairs programs and a place in the Princeton Review's list of the top fifteen percent of colleges in the country. Previously, she served as dean of the School of Business, Public Administration and Information Sciences at Long Island University's Brooklyn Campus from 1998 to 2004. Prior to her transition to higher education administration, Waldron held numerous senior management positions at Citibank over a 14-year period, including president of Citibank International in Miami from 1991 through 1995. Since August 2009 she has held the position of University Professor at CUNY. Waldron, who served as a Fulbright Fellow at the Universidad Católica Andrés Bello in Caracas, Venezuela in 1981, is currently a fellow at the Bildner Center for Western Hemisphere Studies.
As president of William Paterson University, Waldron will lead an institution with 11,000 undergraduate and graduate students. One of the nine state colleges and universities in New Jersey, the University offers 44 undergraduate and 21 graduate programs through five colleges: Arts and Communication, the Cotsakos College of Business, Education, Humanities and Social Sciences, and Science and Health. Among the University's faculty are more than 30 Fulbright scholars and recipients of numerous other awards, grants, and fellowships. Students benefit from individualized attention from faculty mentors, small class sizes, and numerous research, internship, and clinical experiences.
Arnold Speert, who guided William Paterson's development into a comprehensive university with an increasing breadth of academic programs and a modernized campus, is retiring after serving as president since 1985. Under Speert's leadership, the institution progressed from a college to a university, successfully completed its first major fundraising campaign, and upgraded and expanded its facilities. During his tenure, the University expanded from a campus of 250 acres to 370 acres. Highlights include the acquisition and refurbishing of the 1600 Valley Road Building and the development of the University Commons; a major project to renovate and expand the Science Building is in progress.
Waldron has a long and distinguished record of achievement in the academy and in the public sector. As president of Baruch, she led the capital campaign for Baruch, which raised more than $160 million during her presidency. With 16,000 undergraduate and graduate students, Baruch has been recognized as the most ethnically diverse college in the nation by U.S. News and World Report and the Princeton Review.
Before joining Baruch as president, Waldron served for six years as dean of the School of Business, Public Administration and Information Sciences at Long Island University's Brooklyn Campus. While at LIU, she guided their master's degree in public administration through its first national accreditation, hired more than 50 percent of the faculty within a three-year period, established endowed scholarships, and obtained the first corporate foundation awards. She co-chaired the college's five-year strategic planning effort that resulted in enrollment growth and improved quality of student and faculty services.
Previously, Waldron distinguished herself for 14 years in several executive positions at Citigroup. From 1997 to 1998 she served as vice president for Citibank Global Private Bank. In that role she was a member of the policy committee for Citibank's Global Wealth Management Division, which managed over $100 billion in assets of clients from over 40 countries and offered a full range of investment, credit and corporate finance products. She was in charge of global strategic planning for the Private Bank as the group achieved revenues of $1.4 billion. She also served on a transition team when Citicorp merged with Travelers Insurance to form Citigroup in 1998.
From 1995 to 1997, Waldron served as vice president and director of Citibank University, created to serve the professional development of 4,000 people with five curricula and the global delivery of more than 75 online courses. Waldron's background in international markets is particularly noteworthy. From 1991 to 1995 she was president of Citibank International in Miami and from 1984 to 1990 she was vice president of Citibank's International Agencies Division, responsible for providing investment and credit services to large not-for-profit entities in the United States, Africa, Asia, and Latin America.
Waldron received her Ph.D. in Latin American history from Indiana University in 1977, and taught at Bowdoin College in Maine from 1977 to 1980. She has published several articles on Venezuelan history and was an editor of the Handbook of Latin American Studies for many years. She has spoken at various Conference Board meetings about diversity in higher education and leadership and is a frequent speaker on the subject of women in leadership.
Waldron has served as a member of the U.S. Presidential Committee on the Fulbright Program, a member of the Board of Directors of Shands Hospital in Gainesville, Florida, a member of the Florida International Bankers Association, a director of the Fulbright Association, a member of the board of Alpha II, a closed end equity mutual fund, and a board member of Accion International, a micro-credit lending organization. She is a member of the Latin American Studies Association, the Financial Women's Association, the Academy of Management, the Economics Club, the Association for a Better New York, and currently serves on the board of The Tinker Foundation. She is also on the Advisory Board of the Women's City Club of New York.
# # #
News from William Paterson University, Wayne, N.J. – March 11, 2010 Contact: Stuart Goldstein, 973-720-2971, goldsteins@wpunj.edu
03/11/10