Bernie Flynn, President and CEO of NJM Insurance Group, to Speak at William Paterson University on March 5, 2014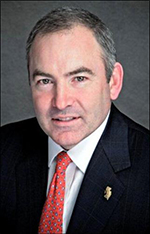 Bernie Flynn
Bernie Flynn, the President and CEO of NJM Insurance Group (NJM), will speak at William Paterson University in Wayne, NJ on Wednesday, March 5, 2014.
The event will be held from 2 to 3:10 p.m., at 1600 Valley Road Auditorium. Flynn will discuss NJM's nationally-recognized excellence in customer satisfaction with students in the University's Cotsakos College of Business.
Flynn has served as President and CEO of NJM Insurance Group since April 2008. Before joining NJM, he was a New Jersey deputy attorney general from 1987 to 1993, serving as counsel for the commissioner of insurance from 1991 to 1993.
NJM is one of New Jersey's leading providers of workers' compensation, personal auto, commercial auto, homeowners and personal umbrella coverages. Independent consumer rating agencies consistently award NJM top scores for customer satisfaction, and the company consistently registers among the fewest valid complaints compiled by the New Jersey Department of Banking and Insurance.
For additional information, contact the Cotsakos College of Business at William Paterson University at 973-720-2964.
02/25/14