International Posters that Advocate for Social Change Featured in William Paterson University Galleries Exhibition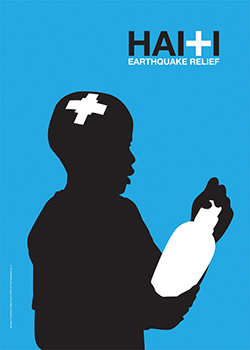 The poster as a medium for social change and a cornerstone of 21st century advocacy is the focus of an exhibition at the William Paterson University Galleries in the Ben Shahn Center for the Visual Arts from January 21 through March 14, 2014. Gallery hours are Monday through Friday from 10 a.m. to 5 p.m., and on January 26, February 2, 9, and 23, and March 2 and 9 from noon to 4 p.m. Admission is free. An opening reception for the exhibition will be held on Thursday, January 23 from 12:30 to 2 p.m.; the snow date is Tuesday, January 28, also from 12:30 to 2 p.m.
Graphic Advocacy: International Posters for the Digital Age 2001–2012, on view in the Court and South Galleries, showcases a selection of 122 posters from the first decade of the new millennium. The posters, which focus on a broad range of topics, such as the struggle for peace, social justice, environmental defense, and liberation from oppression, were created by 100 graphic designers from 32 countries, including Iran, South Africa, China, North Korea, Egypt, Israel, Russia, Canada, the United Kingdom, Germany, and the United States.
"From the confrontational and political, to the promotional, persuasive and educational, the poster in all its forms has persisted as a vehicle for the public dissemination of ideas, information and opinion," explains Elizabeth Resnick, curator of the exhibition. "Posters are dissent made visible—they communicate, advocate, instruct, celebrate, and warn, while jarring us to action with their bold messages and striking iconography."
Ready access to broadband and mobile communications and to digital production technologies has expanded the poster's role well beyond the limitations of the printed surface, Resnick adds. "These new technologies promote truly global conversations coupled with unprecedented opportunities for changing attitudes or showing defiance or solidarity," she says.
In conjunction with the exhibition, a panel discussion will be held on Thursday, February 6, from 2 to 3:30 p.m. in the University Galleries. Thomas Uhlein, a William Paterson University professor of graphic design, will moderate a discussion featuring exhibition curator Elizabeth Resnick, and artists Alice Drueding and Joe Scorsone, who have been designing posters together since 1986. In addition, the Galleries will host an Advocacy Fair on Tuesday, February 25 from 12:30 to 2 p.m. featuring local organizations and William Paterson University student clubs. Both events are free and open to the public.
Resnick is professor and chair of the Graphic Design Department at Massachusetts College of Art and Design, Boston, Massachusetts. She has developed and organized design exhibitions since in 1991. Graphic Advocacy: International Posters for the Digital Age 2001-2012 is the third in a series of socio-political poster exhibitions she has curated. The first exhibition, The Graphic Imperative: International Posters for Peace, Social Justice and The Environment 1965–2005, was organized with co-curators Chaz Maviyane-Davies and Frank Baseman; the second, Graphic Intervention: 25 Years of International AIDS Awareness Posters 1985–2010, was organized with co-curator Javier Cortés. Resnick is the author of Design for Communication: Conceptual Graphic Design Basics (2003) and Graphic Design: A Problem-Solving Approach to Visual Communication (1984), as well as numerous articles for AIGA Journal of Graphic Design and other publications. A member of the advisory board of the Boston chapter of AIGA, she has received several awards, including the AIGA Fellows Award. Resnick is a graduate of the Rhode Island School of Design with bachelor's and master's degrees in fine art.
The exhibition is one of two on view concurrently in the University Galleries. David Shapiro: Cardboard and Gold, on view in the East Gallery, is a celebration of the artist, art historian and poet David Shapiro, a William Paterson University professor of art for more than 30 years. The exhibition includes collages and paintings, as well as many of Shapiro's volumes of poetry, art criticism, and literary criticism.
Funding for this exhibition has been made possible by the Puffin Foundation, as well as by funds from the New Jersey State Council on the Arts. The William Paterson University Galleries are wheelchair-accessible. Large-print educational materials are available. For additional information, please call the William Paterson University Galleries at 973-720-2654.
# # #
01/23/14