Jeremiah Fraites '09: Rocking with The Lumineers
Jeremiah Fraites co-founded the The Lumineers, the red-hot band with the hit single "Ho Hey," performing on Saturday Night Live and David Letterman, and garnering two Grammy nominations.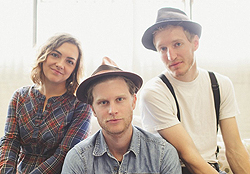 From left, Neyla Pekarek, Wesley Schultz, and Jeremiah Fraites
It's been an amazing ride for Jeremiah Fraites '09, who co-founded the folk rock group The Lumineers with childhood friend Wesley Schultz. In the early days, they could barely afford the gas it took to drive to one gig. A few years later, they have a self-titled full-length Gold album, sold-out tour dates, a double platinum single ("Ho Hey"), opening dates with the Dave Matthews Band, multiple notches on the Billboard charts, and two Grammy Award nominations for best new artist and best Americana album.
Their debut on Saturday Night Live (click here for video) tops off a series of major appearances, including David Letterman, and Conan O'Brien. What's more, Ho Hey is the featured soundtrack on the trailer for the Academy-Award-nominated film, Silver Linings Playbook.
Although success appears to have come fast, it took years of hard work, practice, and touring gigs.
Jeremiah Fraites majored in sociology at William Paterson, but always considered it his "back-up plan." His real passion was music.
At William Paterson, he strategically scheduled his classes with a two-hour break in between just so that he could play piano in Shea Center. "Willy P has awesome practice rooms and a great jazz program. I would just go there and play the piano every second in between classes. That was one of the greatest things about going to William Paterson…I played so much piano," he says.
Fraites was also developing song ideas and making music in a makeshift recording studio at his home in Ramsey. A few years into college, he teamed up with Schultz to start a band. The duo played the New York club circuit from 2005 to 2008, and then moved to Denver, Colorado when Fraites graduated William Paterson. In Denver, they placed a Craigslist ad for a cellist, and Neyla Pekarek was the first and only person to respond. They rounded out the band with two additional touring members. The rest is history.
"People think that when you graduate and start a band, it's easy, but it isn't," he says. "There are hundreds of decisions you need to make."
"When we first went on tour, we were losing money fast because gas was so expensive," he says. "No one knew who we were. So we realized that if you are driving 14 to 20 hours to play one show, you only have 45 minutes to impress the audience." That's how the group developed their rambunctious performing style – unplugging their instruments, going out in the crowd, and singing a song like "Ho Hey." "People got into it," he says.
"Once we started to write a couple songs that made it onto this album in April 2012 – it was like a light bulb went off. This was the music I knew I'd be comfortable playing in ten years."
"To me, music was something I was into for so many years and it never left my spirit. I was prepared to pursue music, maybe be poor, and do what I love," says Fraites. "And that was scary, because after you spend thousands of dollars of your parents' money attending school, you feel obligated to use that diploma."
Fraites can smile at his success now and put his concerns to rest. "We love the music and we believe in it. So far, so good," he says.
01/23/13