William Paterson University Trustee William J. Pesce, Henrietta M. Pesce and Their Children Michael and Katie Donate Generous Gift to Establish Pesce Family Mentoring Institute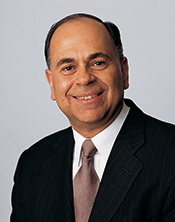 William J. Pesce '73
William J. Pesce '73, a member of the William Paterson University Board of Trustees and retired president and CEO of John Wiley & Sons, Inc., Henrietta M. Pesce '72, MA '75, long-time benefactors of William Paterson University, and their children Michael and Katie have donated a generous gift to establish the Pesce Family Mentoring Institute in the University's Career Development Center.
The Pesce Family Mentoring Institute is designed to help prepare students for their careers or graduate education by connecting successful professionals, including alumni and community partners, with selected William Paterson undergraduate students. The Pesce Family Mentoring Institute will create a hosted online community for mentors and mentees; facilitate formal in-person mentoring discussions; offer targeted professional and career development opportunities; and host networking gatherings.
"William Paterson University is tremendously grateful to Will, Henrietta, Michael, and Katie for this very generous gift, which will benefit our students directly, regardless of their field of study," said Kathleen Waldron, president. "More than 40 percent of William Paterson students are the first in their families to attend college, and the Pesce Family Mentoring Institute will provide them with invaluable advice, encouragement, knowledge, and networking opportunities as they pursue their academic studies, graduate, and prepare for their first professional positions. This gift supports our mission as a public university that serves a diverse and striving student body."
Speaking on behalf of his family, Will Pesce said, "Our family is grateful to be in the position to make a difference in the lives of the next generation of leaders. We believe respected role models and thoughtful, engaged mentors can have an enduring, positive influence on students. We look forward to collaborating with the leadership team at William Paterson, alumni, community partners, and, most of all, the students, to realize our mutual dreams for the Pesce Family Mentoring Institute."
Will and Henrietta Pesce have been significant supporters of William Paterson for decades. They previously established the Aniello J. Pesce Scholarship in honor of Will's father, to support outstanding first-generation students from the Cotsakos College of Business. They also established the Maureen and Patrick O'Connor Scholarship in honor of Henrietta's parents, to support deserving first-generation students majoring in education.
Will was the first in his family to graduate from college, earning a bachelor's degree from William Paterson in 1973. He earned an MBA from New York University's Stern School of Business in 1975, while serving as a graduate research assistant.
A member of the William Paterson Board of Trustees since 2002, Will chairs the Board's Educational Policy and Student Development Committee. He has served as executive-in-residence for the University's Cotsakos College of Business, where he continues to interact with students as a guest lecturer. He serves on Wiley's Board of Directors and the Board of Overseers of New York University's Stern School of Business. Will has received numerous honors, including his induction into the New Jersey Business Hall of Fame™, a lifetime achievement award for individuals making a significant, positive impact on New Jersey, as well as the William Paterson University Legacy Award and President's Medal.
William Paterson University is a leading public university in New Jersey with nearly 11,500 students enrolled in undergraduate and graduate academic programs offered by five academic colleges: Arts and Communication, Cotsakos College of Business, Education, Humanities and Social Sciences, and Science and Health. Located on 370 hilltop acres in Wayne, the university offers a wide range of learning opportunities in its classrooms, laboratories and studios, and provides housing for nearly 2,700 students. The institution's 400 full-time faculty are highly distinguished and diverse scholars and teachers, including 40 Fulbright scholars and recipients of numerous other awards, grants, and fellowships. The institution's more than 67,000 alumni can be found throughout New Jersey, the nation, and the world.
07/08/14