Brooklyn Artist Benjamin Phelan Explores Relationship Between Technology and Sculpture in Exhibition of New Works at William Paterson University Galleries
--New series of sculptures was created during spring 2013 artist residency at William Paterson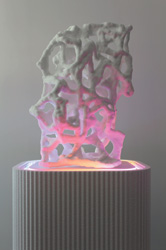 "Earth Pipe Linkspace Conditioner" by Benjamin Phelan
A new series of sculptures by Brooklyn-based artist Benjamin Phelan that explores the relationship between digital animation, physical objects and visual perception will be on view in the University Galleries in the Ben Shahn Center for the Visual Arts at William Paterson University in Wayne from September 9 through October 18, 2013. Gallery hours are Monday through Friday from 10 a.m. to 5 p.m., and on September 15 and 29 and October 6 and 13 from noon to 4 p.m.. Admission is free. An opening reception for the exhibition will be held on Sunday, September 22 from 2 to 4 p.m. Phelan will give an artist talk on his work on Wednesday, September 25 at 2 p.m. in Ben Shahn Center 146.
The exhibition, titled Energy Lattice: Benjamin Phelan, features 17 works created while Phelan was the spring 2013 William Paterson Artist-in-Residence. Phelan, who previously used a hand-held wire cutter to carve Styrofoam into human-sized, otherworldly sculptures, used the Computer Numerical Control Mill in the University's Center for New Art to investigate how his individual hand motions could be recorded in computer modeling systems and then solidified into physical Styrofoam objects. The machine, linked through software, produces a set of drill tip motions, allowing the artist to create three-dimensional objects out of Styrofoam.
The result is a series of works, including Styrofoam sculptures—four "floor forms" on pedestals, and nine "wall forms" displayed on the wall—as well as four drawings. "Like a time-traveling alchemist, Phelan amalgamates disparate visual and cultural references ranging from OpArt to 1960s psychedelia and 1990s computer graphics," writes Kristen Evangelista, director of the University Galleries, in the catalog foreword. "Furthermore, he investigates the ways Styrofoam surfaces reflect light and absorb color from their surroundings."
Two of the Styrofoam sculptures on pedestals are illuminated with pulsing, computer-programmed LED lights; the light varies over time, with each LED representing a pixel from a moving image. "Phelan creates a theatrical spectacle," adds Evangelista, "perhaps the influence of his other gigs as a 3D animator in commercial advertising and stage lighting engineer for the band Yeasayer."
A catalog of the exhibition, including the foreword by Evangelista, an essay by Brian Droitcour, an interview with the artist by Michael Rees, William Paterson University professor of art and director of the Center for New Art, images of the artwork, an exhibition checklist, and Phelan's biography, was produced with a grant from the Elizabeth Firestone Graham Foundation. The catalog was designed by Tom Uhlein, William Paterson University professor of art, and edited by Regina Pappalardo, William Paterson University assistant professor of communication.
Phelan received his B.F.A. from the Rhode Island School of Design in 2006. He had a solo exhibition at Primetime in Brooklyn, NY in 2012, and has participated in a number of group exhibitions including: W/––– Editions 02 Launch, Eli Ping, New York, NY (2012); Y A S 2, Primetime, Brooklyn, NY (2012); Knowledge of the True Games, Know More Games, Brooklyn, NY (2012); Vernalis, North Henry Annex, Brooklyn, NY (2011); Philadelphia Out of Phase, Bodega Gallery, Philadelphia, PA (2010); Horror Vaculi, Nudashank Gallery, Baltimore, MD (2010); and GIANT SALE, A.P.E. Gallery, Northampton, MA, (2009).
The William Paterson University Artist-in-Residence Program provides access to the University's unique facility for the production of sculpture, installation, performance, 2D and 3D imaging, interactive media, augmented reality and others. Work produced during the residency will be exhibited in a solo exhibition at the University Galleries.
The exhibition is one of three on view concurrently in the University Galleries. Without Adornment: Photographs by George Tice, on view in the South Gallery, presents gelatin silver prints from the renowned New Jersey photographer's early Paterson series, as well as platinum/palladium prints, in celebration of Tice's 75th birthday. On view in the Court Gallery is the annual exhibition by members of the William Paterson University art faculty.
This exhibition is made possible in part by funds from the New Jersey State Council on the Arts. The William Paterson University Galleries are wheelchair-accessible. Large-print educational materials are available. For additional information, please call the William Paterson University Galleries at 973-720-2654.
# # #
08/28/13