Tom Bradley, President of TD Ameritrade-Retail, to Receive 2013 Pioneers in Financial Services Award at William Paterson University on April 17 at 11 a.m.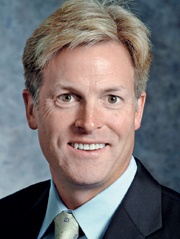 Tom Bradley, president of TD Ameritrade-Retail
Tom Bradley, the president of TD Ameritrade-Retail, a major provider of securities brokerage services, will receive the Pioneers in Financial Services Award from the Cotsakos College of Business at William Paterson University in Wayne on Wednesday, April 17 as part of an award presentation and luncheon.
The event will be held at 11 a.m. at the University's 1600 Valley Road Building, Room 1012. The award, established in 2012, seeks to recognize individuals, groups, or organizations that have dedicated themselves to genuinely improving and enhancing the financial services profession while making a positive difference in their regional, national, or global communities. John C. Bogle, founder and former CEO of Vanguard, received the award in 2012.
William Paterson was named one of the nation's top schools for future financial planners by Financial Planning Magazine in 2011 and 2012. Since 2010, students from the University's financial planning program have garnered top awards in national competitions.
"Tom Bradley is one of the most influential people in the advisor community," says Lukas Dean, assistant professor of economics, finance and global business and director of the University's financial planning program. "He has grown TD Ameritrade into a major player in the fastest-growing segment of financial services by expanding technology, being an advocate for consumer protection, and putting his clients first. He is truly a pioneer in the industry."
Bradley has spent more than 25 years working in various aspects of TD Ameritrade's business unit supporting independent registered investment advisors. In 1992, he started TD's independent investment advisor services unit. In 1998, he was charged with creating TD's Investment Center, which provides retail customers with investment guidance and support.
Over his tenure, Bradley has built a reputation for his advocacy efforts. Specifically, he has been an advocate for the U.S. to impose a fiduciary requirement on all professionals who provide financial advisory services to clients. He was also instrumental in helping the Coalition for Financial Planning reverse the "Merrill Lynch rule" created by the SEC which allowed brokerage firms to market and charge fees for investment advisory services without being held to the fiduciary standard of care required by the 1940 Investment Advisors Act.
Prior to joining TD Ameritrade, Bradley was with TD Waterhouse and continued through its merger with Ameritrade in 2006. He received a B.S. in business administration with a concentration in finance from the University of Richmond, Robins School of Business.
The award event was made possible thanks to a grant to William Paterson's Global Financial Services Institute from State Farm. For additional information, contact the Cotsakos College of Business at William Paterson University at 973-720-2964.
04/15/13