&
Making an Impact: Undergraduate Research in the Sciences Gives Students an Edge
By Mary Beth Zeman
"Research in the field of nanotechnology has very significant implications for industry, from the microprocessors in our cell phones to new biomedical applications such as drug delivery methods," says Chauhan, who has been conducting research in the field for 15 years. "The students who assist me in research in my lab are at the cutting edge in terms of the techniques they learn. They gain a skill set that will be an advantage whether they pursue a job or seek an advanced degree."

"It's very intense," says Chaudhry, who spent five hours each day in the lab along with two other students. A chemistry major who has been a member of Chauhan's lab since January, she says her involvement in research "makes me love what I do more—the deeper I go, the more I want to do." Her immediate goal? Preparing a poster for the American Chemical Society's national meeting in San Francisco. In the long-term, she plans to pursue a doctorate in organic chemistry.

Over the past decade, more and more attention has been focused in higher education circles on the benefits and advantages of undergraduate research, particularly in the STEM (science, technology, engineering, and math) fields. According to a 2007 white paper issued by the American Council of Learned Societies Teagle Working Group in Liberal Education, "When students collaborate with teacher-scholars on research, students learn firsthand how experts think about and solve practical problems; their teachers become role models, mentors, and guides for continuous, lifelong learning."

"Technology is changing so rapidly that something a student learns as a freshman could be obsolete two to three years later," says Kenneth Wolf, dean of the University's College of Science and Health. "If we are going to be educating our students for a world yet to be identified, they have to learn to be consumers of knowledge. We need to give them a skill set to be a lifelong learner. What better way to do that then through a research experience?"

On a broader level, undergraduate research has been documented as a "high-impact practice" that should be included in any student's collegiate experience. The National Survey of Student Engagement, perhaps the nation's most widely used assessment of collegiate quality based on best practices in undergraduate education since its inception in 2000, continues to demonstrate that research with faculty is an important indicator of a quality undergraduate education. In addition to the skills a student gains in his or her discipline, such an experience has been positively associated with other key forms of engagement, including higher-order learning, quantitative reasoning, collaborative learning, discussions with diverse others, and a supportive environment.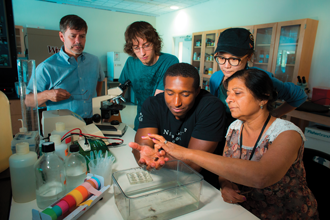 At William Paterson, the College of Science and Health has a long-standing commitment to providing undergraduate research opportunities in the sciences. Since 1992, through its Center for Research, the College has facilitated and encouraged faculty and student research that culminates in publications in peer-reviewed journals, presentations at research conferences, and/or applications for external funding. In the past five years alone, more than 170 students have participated in research experiences with faculty.

In addition to funding through the Center for Research, students can apply for research internships through the Garden State-Louis Stokes Alliance for Minority Participation (GS-LSAMP). Initiated by the National Science Foundation, GS-LSAMP is an alliance of nine New Jersey colleges and universities, including William Paterson, working to increase the number of under-represented minority graduates in the STEM fields. In summer 2014, the University supported paid research internships for 25 students through the program.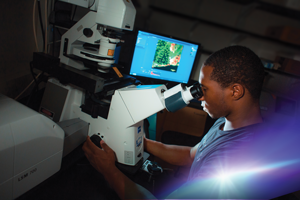 "The number of students who want to participate increases every year," says Danielle Desroches, professor of biology, who serves as the University's academic coordinator for the grant. Students who apply must be majoring in a science, as well as demonstrate interest in research through participation in monthly meetings about research organized by Desroches. During the fall semester, students who conducted research during the previous summer make presentations about their projects; in the spring, faculty members discuss the projects for which they are seeking students. The meetings regularly draw 90 to 100 students and faculty.

"Research opens a student's horizons," says Desroches. "They learn material outside the classroom, get to know their professor better, have a chance to publish, to present, to travel, to increase their writing and overall skills, to network with faculty or employers—these are all positive skills for any student interested in medical school, a graduate or professional program, or the workplace."

Among students selected for a summer 2014 research experience were Adonis Rivie and Joyce June, both of whom are conducting research as part of an interdisciplinary research project conducted by Jaishri Menon, professor of biology, and Kevin Martus, professor of physics. Menon, an expert in physiology and vertebrate morphology, is studying tadpole metamorphosis and tail regeneration and collaborated with Martus, an expert in plasma physics, to look at wound healing after exposure to a plasma jet.

"In tackling any research problem, there are so many issues and aspects, but when you involve people from other disciplines, you approach the problem with more flexibility," says Menon. "It is more creative, but also more hard work—each person has his or her own ideas. It is helpful to us as faculty researchers but it especially opens doors for students who get a broader, more in-depth experience."

Martus, who has had an undergraduate student presence in his lab for nearly two decades, says the key is to let the students think about how to solve the problem. "When you are working with students, they have ideas, and we try them," he says. "A student might have a different approach than I do, but if it works, that's fine. It's what we are here to do—thinking and learning."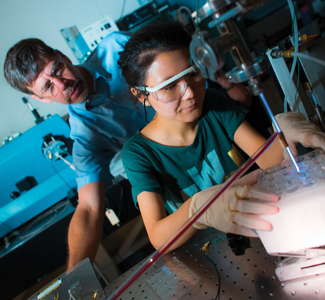 For Rivie, a senior majoring in biology, working on this project has provided a tremendous opportunity to refine his lab skills. "As a biology major, the regular course load is mostly theory, but in the lab, I am able to learn the techniques and practice them every day," he says. As part of the project, Rivie uses the University's state-of-the-art confocal microscope to analyze the effect of plasma on wound healing and tail regeneration of tadpoles—a high-level technique that in many colleges would only be taught to graduate students. "Professor Menon has faith and trusts in our abilities to learn these skills; she is truly a mentor."

Rivie, who began working in the lab in 2012, has been able to present his research at several conferences, including the Emerging Researchers National Conference in STEM held in Washington, DC in February 2014. He and former student Raphael Ezuduemoih earned a second place award for their poster presentation in the biological sciences category; more than 650 students from around the country participated in the event.

He also earned a second place award at the University's own 8th Annual Undergraduate Research Symposium in the Biological and Chemical Sciences, held in April on campus. The symposium was launched in 2007 by Menon to give University students a professional platform through which to showcase their talents and share their research achievements with faculty and their peers. The event, which drew 27 research abstracts through word of mouth in its first year, has quadrupled. This year's event featured 102 student participants from 27 institutions, including Yale University, Columbia University, Rutgers University, and the University of Alabama, as well as a lecture by renowned chemist and Nobel laureate Sir Harold Kroto.

"This has grown to be a very significant event for our student researchers, an opportunity for them to present their work in a competitive environment," says Chauhan, who has joined Menon as co-organizer. "Students see that we are providing them with a top education and research experiences; it brings them confidence they can compete nationally."

For many faculty, mentoring a student brings their own experiences full circle. Mick Griffiths, an assistant professor of environmental science, is a native of Australia, who completed his undergraduate work in geosciences at the University of Massachusetts, Amherst as a study abroad student. "I was exposed to high-profile people in my field," he recalls. "I took an oceanography class and did some research work with a professor who had a National Science Foundation grant. He encouraged me to apply to graduate school. That experience shaped my career."

Now, Griffiths, a geochemist whose research is focused on issues related to climate change, is collaborating with Marty Becker, professor of environmental science, and undergraduate student Bryan Gonzalez on a project using Becker's extensive collection of fossilized shark teeth that date back 100 million years.

"This is a potentially new way to look at seawater chemistry based on the elements incorporated into the shark teeth during growth," Griffiths explains. Through Griffiths, Gonzalez, who began working on the project during the past academic year, was able to continue his work this past summer at the Rutgers Institute of Marine and Coastal Sciences as part of the National Science Foundation-funded Research Internships in Ocean Sciences program.

A native of Bolivia, where a diminishing glacier has led to a water crisis, Gonzalez became interested in research after hearing Griffiths do a presentation. "He told me that in order to understand the climate of the future, I had to understand its past," Gonzalez says. After initially working on a project looking at drought in the western United States, he switched to the project involving shark teeth. "It's new, it's pioneering," he says. "Professor Griffiths is giving me a tremendous opportunity. Choosing to attend William Paterson was the best decision I could have made." He is planning to attend graduate school.

"Bryan is a prime example of the benefits of research," Griffiths says. "He had no clue what he wanted to do but research opened his eyes to the possibilities. It can be a springboard at a pivotal point when it can have a big impact. As a faculty member you have an opportunity to really direct a student —that's why it's fun."