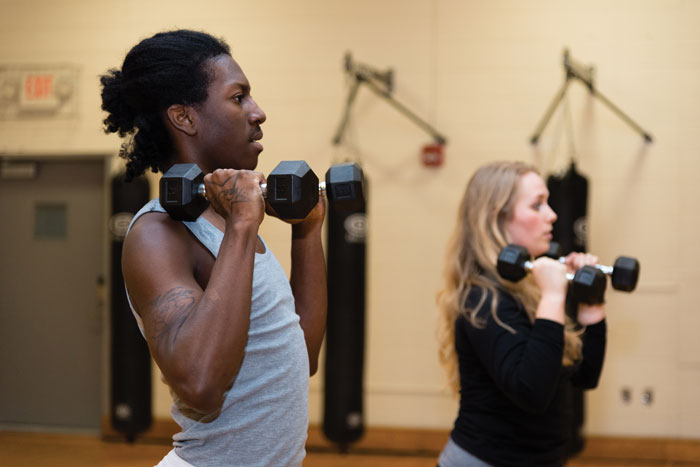 Other Stories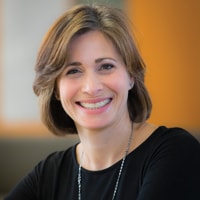 What's a Healthy Body Without a Healthy Mind?
A psychology professor researches the impact of yoga on reducing stress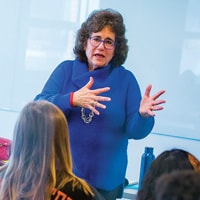 Achieving Campus Wellness Through the Classroom
Healthy U, a course in the Department of Public Health that helps students navigate their paths to wellbeing.
Bodies in Balance: Campus Comes Together to Promote Healthy Living
By Maria Karidis Daniels
A rapidly expanding collection of research points to exercise as the key to a long, healthy life. Regular physical activity can both prevent and treat several dozen diseases, and without it, the potential for premature death skyrockets. Exercise, experts say, is medicine.
It's a philosophy that William Paterson University is embracing as one of 106 colleges/universities worldwide with a recognized "Exercise is Medicine on Campus" program—calling upon faculty, staff, and students to improve their collective health by making physical activity a part of campus culture. The program is an offshoot of "Exercise is Medicine" (EIM), a global initiative coordinated by the American College of Sports Medicine (ACSM), which encourages healthcare providers to prescribe exercise when designing treatment plans for patients.
"You have to take care of yourself now so you can be healthy later," says Toni LaSala, assistant professor of exercise science and the woman responsible for bringing EIM to the University. The project is near and dear to her heart. LaSala's sister died at age 52 due to medical complications stemming from obesity. "That was my motivating force," she explains of bringing EIM to William Paterson. "I don't want to see somebody die at a young age due to something they can prevent."
Through the two sections of her Aerobic/Anaerobic Leadership course, LaSala has put together an EIM team of 45 student leaders. They have brought to campus such activities as open-to-all volleyball, flag football, and basketball, as well as free blood pressure screenings, cardiovascular testing, and fitness assessments. They've also led a walking program, handing out pedometers to students, faculty, and staff.
ACSM bestowed bronze-level accolades on the University's EIM efforts in 2014—its first year of participation—and silver in 2015. Determined to get the gold, LaSala and her student leaders significantly expanded EIM offerings for 2016 and their hard work paid off. William Paterson University is now one of 23 institutions across the globe awarded gold level recognition for its commitment to exercise.
Doctors' Orders
The average adult should work out with moderate intensity four to five times per week for 30 to 45 minutes per day. "Moderate intensity" means the exercise is hard enough that you can't sing while in action, but not so hard that you can't talk. However, most patients seen at William Paterson's Counseling, Health, and Wellness Center are falling short of that standard, says center director Jill Guzman, DNP '14. Students often cite a lack of time and energy as the cause.
"We tell them, 'You have to find that life balance,'" Guzman explains. "You have class, maybe a job on the side, families, studying…but you need to make yourself—taking care of yourself —a priority. It's about making you important."
"Important" is indeed an operative word. According to research published by the National Institutes of Health, regular physical activity counteracts more than 30 chronic conditions including diabetes, coronary heart disease, depression, colon cancer, breast cancer, rheumatoid arthritis, obesity, and hypertension. Unfortunately, some William Paterson students, only in their 20s, have been diagnosed with pre-diabetes or hypertension. Meanwhile, others are dealing with orthopedic issues overwhelmingly caused by a lack of physical activity and being overweight, according to the wellness center's Fazia Weaver, nurse practitioner. "I'm already seeing students who complain, 'Oh, my knee; oh, my back,' just from being sedentary, from sitting for hours and hours at a time," Weaver explains. "As they age, especially for women, the risk for osteoarthritis is great."
"We really focus on nonpharmacological intervention when the patients are this young," Guzman adds. "We don't want to have to start our students on medication from such an early age. We would rather they try exercise first."
And, thanks to the wellness center's new partnership with LaSala, that's where the University's EIM program now plays a role.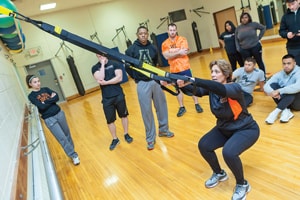 Professor Toni LaSala demonstrates exercises
As of fall 2016, wellness center visitors contending with the aforementioned conditions, as well as those struggling to lose weight, are given "prescriptions" for exercise. Though not a prescription in the literal sense, the students are given written recommendations for the amount, type, and duration of exercise activity. They are also directed to contact LaSala. She pairs them up with exercise science majors in Section One of her Aerobic/Anaerobic Leadership class who, as a requirement of the course, must serve as personal trainers to their assigned "clients." Each trainer is graded on the exercise plan created. The trainer and client meet for an initial consultation, then for a physical fitness test—which the trainer uses to design a plan based on the client's challenges and goals—and the duo follows up throughout the semester as needed.
The clients benefit from getting free personal training sessions that would cost them upwards of $60 each at a gym. The exercise science majors benefit from experiential learning.
Senior Karissa Melfi was charged with being the on-campus trainer to a first-semester freshman last fall. With both students taking five courses each and working part-time jobs, they scheduled their meetings for 7:00 a.m. and sometimes had to wait a few weeks between those meetings. They made it work and Melfi appreciated the challenge, saying LaSala's course allowed students to "get the experience as though we were professionals."
"The number one thing I learned from this was how to meet and work with someone new. I had no idea who this person was and I had to come up with an exercise program to meet her needs. Every person out there is different, and every person out there requires different things when it comes to their bodies. How do I create a plan for someone who isn't me?" Melfi asks.
It's a question she learned how to answer successfully, thanks to her professor's instruction.
"Dr. LaSala definitely gave me and my class the tools to work with our students. She always answered our questions as quickly as possible, met us in the gym, and provided written tools and explanations," Melfi explains. "I was able to learn how to produce a plan for my client and future clients I might have."
The exercise science major is now working part time at a gym and studying for the written exam to become a certified personal trainer. She plans to pursue post-graduate studies for either a career as a physicians' assistant or physical therapist.
No Prescription Necessary
The University's team of EIM leaders created brochures about the student-to-student personal training program, and in order to ascertain interest and need beyond the wellness center, a few professors of public health distributed the brochures in class. The response, LaSala says, was great. Between those with wellness center prescriptions and those who received a brochure, she had so many prospective clients that numerous students in Section One of Aerobic/Anaerobic Leadership agreed to train more than one client during the semester. A group of overflow requestors were paired up with students from Section Two who volunteered to help. Those in Section Two are not required to serve as students' personal trainers as part of their final grade; they are instead required to plan and lead group health and fitness classes for University employees.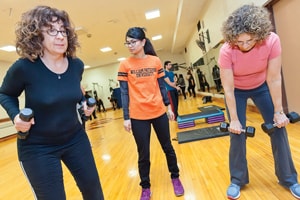 Exercise science major Alysse Marcelo '17 guides two staff
Those classes have been born of a new partnership between the University's EIM leaders and human resources department. Together, starting in fall 2016, the two groups have co-planned various health and fitness classes for William Paterson faculty and staff. The most popular thus far was a bone density workshop hosted in the HR department mid-afternoon, coinciding with most employees' lunch breaks. During the class, students taught employees how to improve their bone mass using dumbbells, resistance bands, or tubes, and their own body weight.
The one-on-one exercise instruction from students was a huge hit, and after receiving multiple employee requests for more, human resources teamed up with EIM again.
From early February through early April, about 30 University employees met in Wightman Gym once a week for 45 minutes. There, students guided them through warmups, cardiovascular activities, resistance training, stretching, and cool downs. Every week, participants rotated through 10 student-monitored exercise stations, where every activity was modified on an individual basis so that employees of every fitness level could take part.
Mary Thomas, University director of business services, and Patrice Stewart, of the accounts payable department, attended the exercise classes religiously. They say they particularly appreciated learning exercises wherein only one's body weight is required, relinquishing the need for any equipment when it comes time to exercise off campus. Their biggest takeaway from the experience was proper exercise form, which they now know is crucial to avoiding injury.
"The students were very knowledgeable and patient with us," Thomas says. "We are very much looking forward to the next round of classes."
Meanwhile, the students say they really benefitted from having to be prepared to lead a class, and then seeing how that preparation played out with University employees. They didn't realize how much they would have to cue participants, whether by physically demonstrating what a 90-degree angle looks like or what "stand with your feet hip-width apart" means. Each week, the students say they learned more and more how to use different styles of teaching to accommodate different types of learners.
"This is such a great opportunity for students to connect with employees of a diverse population," says Desyra Highsmith, associate director of human resources. Aside from this semester's group exercise classes, the human resources team is also providing employees with expert-presented seminars about nutrition, smoking cessation, and heart health, among others.
"It's really important for staff and faculty to set a good example for our students," Guzman says, lauding the University's HR department for its efforts. A "Biggest Loser" fitness and weight loss competition and a Weight Watchers support group were among Guzman's favorite HR-organized activities. "The University has really made strides," she says.
The wellness center, too, is offering more prevention and outreach services than it did in years past. Among recent offerings were free dance and Zumba classes, athletic events and competitions in partnership with the Rec Center, and patient participation in the campus breast cancer and suicide prevention walks thanks to assistance from the Campus Activities staff. Classes about healthy eating, including one on how to cook nutritious meals using only a microwave, have been offered as well.
"I realize, walking around campus, that many members of our campus community need a little more exercise," LaSala says. "We do have the people who will go anywhere and do anything to work out, but I want to target everyone else. I want to target the people who really need to understand how important exercise is, and how important it is to get started at a young age, so they can prevent those comorbidity diseases from occurring when they get older."
"It's not about having time," she adds. "It's about making time."
For a video of students demonstrating exercises for an office or residence hall room, click here