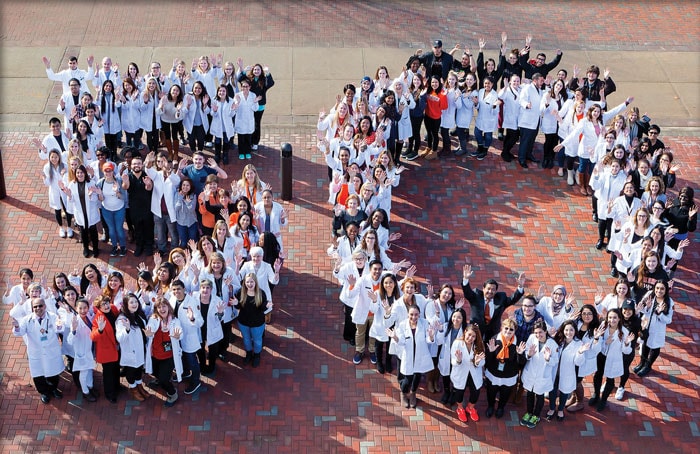 Other Stories
William Paterson University Celebrates 50 Years of the Nursing Program
By Theresa e. Ross '80
During a labor and delivery class in the Nel Bolger, RN Nursing Laboratory, William Paterson University nursing students care for "Lucina," a simulated birthing mother controlled by a computer. In this lifelike obstetrical setting, students learn to monitor the baby's and mother's heartbeats, palpate the fetus, and participate in a delivery process that will take 20 minutes.
"The pioneers of William Paterson's nursing program would be absolutely astounded by the facilities that we are training nurses in today," says Kenneth Wolf, dean of the University's College of Science and Health. This year, William Paterson University celebrates the 50th anniversary of the nursing program. Since the program's inception in 1966, William Paterson has been a leader in nursing education in New Jersey.
In 1970, the first nursing class with a baccalaureate degree graduated from William Paterson College. Today, the program includes a master of science (MSN) with concentrations in the areas of adult gerontology, family practice, administration, adult nurse practitioner, education, and family nurse practitioner. In 2010, the University established its first doctoral degree program, the doctor of nursing practice (DNP), to provide the advanced practice nurse with preparation for leadership roles in healthcare.
In the coming decades, William Paterson President Kathleen Waldron envisions a bright future for graduates of the nursing program. "Our highly trained faculty, building on their own clinical experience, are demanding of their students and have helped them obtain some of the top nursing positions in the region," says Waldron. "We are proud to see our alumni working across the industry, providing care, leading organizations, and teaching future practitioners, to shape the future of healthcare."
"We take great pride in our program and have come full circle in that we now have two faculty members who are graduates of our DNP program," says Nadine Aktan, chair and professor of nursing at William Paterson. "Our own graduates are sharing their wealth of knowledge in clinical nursing and education with future nurse leaders." Today enrollment is at 500 students and nearly 15 percent of current students are male. More than 335 are undergraduates; 140 are in the master's program and 22 students are earning their doctorate. There are more than 50 nursing faculty.
The Department of Nursing received a boost in January 2016 when it moved into the spacious, newly constructed University Hall, with its open-glass atrium and high-tech facilities. The department includes six patient simulation laboratories, including the relocated Nel Bolger, RN laboratories, with control and debriefing rooms to provide enhanced clinical training. Adjacent to these impressive labs are three, state-of-the-art nursing basic skills labs.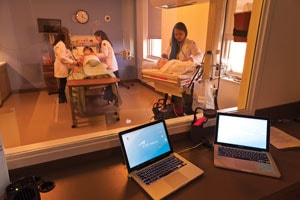 One of the nursing program's six patient simulation laboratories
"Because of our new basic skills labs and simulation center, we're able to provide students with cutting-edge, technologically sound classrooms and simulation labs where they're learning state-of the-art nursing skills," says Aktan. "We also updated our curriculum five years ago to a concept-based curriculum, which promotes critical thinking and clinical reasoning," she explains. "We teach the concept of pain, for example—you can have obstetrical pain, post-operative pain, or emotional pain. By teaching in broad principles, the novice nurse can apply his or her knowledge to every setting, whether it is a pediatric or critical care setting."
Throughout her 27-year career at William Paterson, Sandra DeYoung took a leadership role in shaping the nursing program. DeYoung joined the nursing faculty in 1985, became chair of the department in 1987, and later associate dean and dean of the College of Science and Health. "When I arrived, Mary Patrick was the first doctorally prepared chair. I became the second, and from then on we only hired doctorally prepared faculty for full-time positions," says DeYoung.
The University's nursing program has always had a reputation for being academically challenging, strong in science and rich in clinical experience, says DeYoung. It was also supportive. "No matter how quickly the program grew, the faculty always took an interest in the students," she says. "We spent a lot of time advising them, spending time on career goals, preparing them for their license or exam. Students who transferred into William Paterson would often tell us, 'I went to X, Y, or Z university and felt like a number. But here I felt that faculty really took a personal interest in me.'"
In May 1986, William Paterson inaugurated the Iota Alpha chapter of Sigma Theta Tau, an international honor society of nursing and worldwide network of nurse leaders. For the last seven years, working with an organization called Foundation for Peace, members of Iota Alpha have participated in medical missions to Haiti and the Dominican Republic.
"Participating in a medical mission is a life-changing experience that can enhance nursing skills beyond any lesson learned in a classroom," says Aktan. Raissa Lynn Sanchez '11 and Ashley Perone '11 are among the William Paterson nursing students who have volunteered in Haiti and the Dominican Republic. Their work in public health gained attention at the honor society's international level, and a year after graduation, they were both selected as Youth Representatives to the United Nations. "This experience provided me with a great deal of insight into how involved nursing can and will be in the future of global health," says Sanchez. She encourages fellow nursing students to participate in the honor society, a program that has opened doors and led to making presentations at national and international conferences.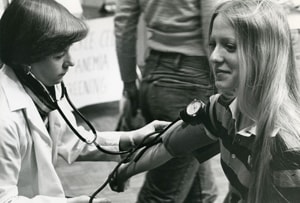 A student nurse does a blood pressure check, circa 1980
William Paterson's nursing program is affiliated with more than 50 cooperating agencies in the surrounding North Jersey region, including major hospital and medical centers, public health agencies, clinics, and nursing homes. Alumni hold positions at every major hospital in the region, including Beth Israel Hospital, Mount Sinai Medical Center, Hackensack University Medical Center, Clara Maass Medical Center, Memorial Sloan Kettering, Columbia Presbyterian Medical Center, New York University Medical Center, Robert Wood Johnson, and more. "We might send a student to a domestic violence shelter, wound care center, or to a school nurse to learn about the role of the nurse in a public school system," Aktan explains. The variety of settings affords students a wealth of opportunities to gain clinical experience during their junior and senior years.
Many nursing faculty are actively engaged in research and publication, as are graduate and DNP students. Undergraduate students in the Honors College's nursing honors track also take n a challenging project during their junior year and will present it as their honors thesis, explains Jill Nocella, assistant professor and director of the nursing honors track. Nursing student Tyler Burd, who is also on the soccer team, is researching the knowledge level of collegiate athletes regarding concussion symptoms and protocol on the field, and Kayleigh Orocchi is researching PTSD (post-traumatic stress disorder) among labor and delivery nurses. "Most undergraduate nursing programs do not require students to do their own studies," says Nocella. "The fact that our honors track students are doing what I consider master's level work is really tremendous. By the time they graduate, it is impressive."
More than 3,600 health professionals have graduated from William Paterson's nursing program, and many have gone on to distinguished careers. Each brings his or her own dream and vision to the profession.
Healthcare and its future continues to be a major concern for all nursing professionals. "Early on, I realized that every single thing I did for my patients was determined by the people working in the U.S. Congress," says Judi Buckalew '74, a registered nurse who went on become one of the most influential nurses in the country. With a keen interest in influencing public health policy, Buckalew moved to Washington, DC, where she served as a legislative assistant, drafted legislation for health planning activities, and became the first nurse to serve as a commissioned officer in the White House under President Ronald Reagan. Today Buckalew is a regulatory and government relations professional with the American Academy of Orthopaedic Surgeons. She joins forces with fellow nurses and physicians, some elected to Congress, to make and change laws. "We are working to provide better patient care by influencing the way it is paid for through the Medicare program, primarily because that influences private health insurance policies. If you are on the inside, you are better able to influence the outcome. And that's for the good of all patients and their families."
Many nurses are drawn into the profession because of their own personal experience. The dream of opening a medical practice to help the underserved community is what motivated Gustavo Gonzales, a nurse practitioner, to earn his MSN in 2005 and DNP in 2014 from William Paterson. "I came from an economically challenged area in Argentina and have seen firsthand the devastation that can be caused by lack of access and education regarding health and wellness," he says. This led Gonzales, who began his career as a mathematics teacher in Argentina, to devote his life to health promotion and management. Gonzales is now the principal/owner of a clinic in Dover, serving a primarily Hispanic population. He plans to become more involved in research to influence policy-making and to empower change for communities in need.
Stephanie Goldberg '81 knew she wanted to be a nurse when she had the frightening experience of being hospitalized at age five and then having a compassionate nurse calm her fears. Goldberg earned a bachelor's degree in nursing from William Paterson, and spent more than 20 years working with her mentor and fellow alumna Toni Fiore '76. Both Goldberg and Fiore began as staff nurses and went on to leadership and administrative positions at Hackensack University Medical Center.
Today, Goldberg is senior vice president and chief nursing officer at the Hospital for Special Surgery in New York City where she is in charge of more than 2,500 nurses on staff in the 209-bed facility. She is most proud of leading the institutions she has worked at to Magnate designation four times, the most prestigious distinction a healthcare organization can receive for nursing excellence and high-quality patient care. Her advice to future nurses is to always remember why they went into nursing—to care for the patient.
With the aging of the baby boomer population, there's also more demand for nursing care in geriatric care and rehabilitation. Monique Coriolan '04 is director of nursing at the Cranford Rehab & Nursing Center in Cranford, a rehabilitation and long-term care facility for seniors. "We provide subacute care at our facility. It is complex because patients are coming to us sicker than they used to, so we have to be able to meet their clinical needs and at the same time provide a good customer service experience. To do it well, we constantly look at data and make necessary improvements," says Coriolan. She praises her education at William Paterson for helping to prepare her for her career. "It was a challenging program, but I had the support I needed from my professors," she adds. She is currently pursuing her MSN degree at William Paterson.
As the nursing profession and health industry continue to experience growth and change, President Waldron envisions more master's degrees will be pursued and more qualified, diverse applicants and nurse practitioners will be the norm. "There is such a demand for our student nurses and our academic standards are high," she says. "William Paterson is well prepared for the future."