&
What's a Healthy Body Without a Healthy Mind?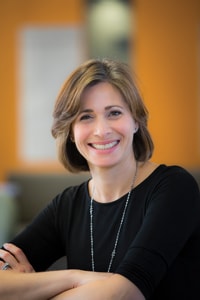 Robin Nemeroff
Robin Nemeroff, associate professor of psychology, has been working on a campus-based research project that embodies the spirit of Exercise is Medicine—with a spin. Nemeroff, a clinical psychologist and director of the University's doctoral program in clinical psychology, is conducting a study on the use of yoga to reduce stress and anxiety in college students.
There are many different styles of yoga that emphasize different capabilities of the body, such as coordinating breath and movement or holding postures in strict alignment. Overall, the practice of yoga has been lauded for physical benefits that include muscle strength, flexibility, balance, and coordination.
But do the benefits of this type of exercise transcend the body?
"I practice yoga myself and I think it can be a very useful tool for stress reduction," Nemeroff says. "Surprisingly, even though yoga is a readily available, cost-effective, low-stigma approach to reducing stress, there is little empirical research on the benefits of yoga for reducing stress and anxiety symptoms."
The professor has subsequently spent the past several semesters recruiting high-stress University students who can commit to taking two free, on-campus yoga classes every week for three to six weeks.
Nemeroff uses a 20-minute questionnaire to evaluate participants' stress levels before, during, and after the block of yoga sessions. In her six-week pilot program, she found a staggering drop in participants' indicators of stress at the third week. Between weeks three and six, students in the program maintained that lower level of stress.
Whether she will draw the same results after studying many semesters worth of student-participants remains to be seen, but so far, the professor says, they seem to be benefitting from the yoga classes. A few students felt so much better after participating in her study that they volunteered to help set up subsequent semesters of Nemeroff's yoga classes as a way to pay it forward.
"For sure, exercise is a known antidepressant and has been known to reduce stress, and yoga certainly has a physical component," Nemeroff says. "But I view yoga as integrating a few different variables, which is why I've decided to focus my research there. There is a body of literature that shows diaphragmatic breathing, which is a big component in yoga, is a stress- and anxiety-reducing technique. Additionally, an emerging body of research on mindfulness points to its therapeutic benefits. And the practice of yoga is also a mindfulness technique."
"There is no research that pieces apart the underlying mechanisms of how yoga does what it does," she adds. "There is much more work to be done on this topic."
Thanks to a $25,000 grant from the Fred J. Brotherton Charitable Foundation, Nemeroff will start to chip away at that work, expanding her research off campus starting in fall 2017. She will explore the potential benefits of adding yoga to the treatment plans of adult outpatients diagnosed with generalized anxiety disorder. This work will take place at Christian Health Care Center, a non-profit healthcare facility that provides mental health services in Wyckoff, New Jersey.
Teaming up with Nemeroff on this project will be the non-profit organization Kula for Karma, which offers therapeutic yoga programs at no cost to people with physical, mental, and emotional challenges. Since its inception in 2007, Kula for Karma has launched more than 600 yoga programs in the tri-state area.
Ultimately, Nemeroff hopes to find a place for yoga as an intervention for people with generalized anxiety disorder.
"Stress and anxiety are so pervasive in our world and we need to learn more about ways to manage them," Nemeroff says.