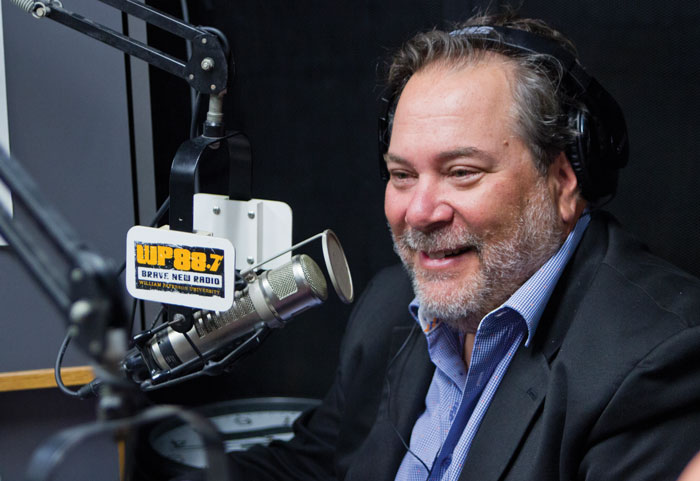 &
Joseph Riccitelli Spearheads Music Promotion for Top Artists
By Theresa E. Ross '80
Alumnus Joseph Riccitelli '85 first discovered he had a real passion for picking songs and playing to an audience when he was a deejay at WPSC radio in the early 1980s. These days, as general manager and executive vice president of promotion at RCA Records, Riccitelli is responsible for promoting some of the hottest names in contemporary pop music, including P!NK, Justin Timberlake, the Foo Fighters, Usher, Britney Spears, and Pitbull.
"If I am accused of anything, it's that I'm too passionate," he says. "I try to be true to myself and committed to the artist I promote and represent."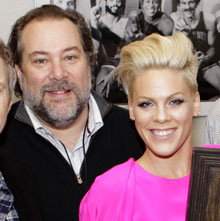 One such artist is Alecia Beth Moore, better known as P!NK. In 2006, Riccitelli had a one-on-one conversation with the celebrity when they were both in Washington, DC, taping a Sirius XM broadcast. She had achieved a tremendous amount of success outside of America, he says, playing at arenas in Europe and Australia. Riccitelli was frustrated trying to reconcile how this young woman from Philadelphia, first popular here, was now achieving greater success outside of America. "In that moment, I knew that it was my responsibility, as head of the promotion department, to help her obtain the same accolades in the U.S. as she had been receiving around the rest of the world," he says."It was a challenge for us, but we made it happen," he adds. A year later, P!NK had a resurgence, and as recently as last year she was touring in the U.S., playing arenas, as well as nominated for Grammys, and winning awards. To accomplish this, Riccitelli took a risk. "I put myself on the line with program directors across the country to get my point across: she deserved every opportunity in the U.S. that she was getting around the world."
Riccitelli is being honored as a Distinguished Alumnus by the William Paterson University Foundation at its 26th annual Legacy Award Gala held in April 2016.
Over the years, Riccitelli has been a friend and supporter of William Paterson, serving as a visiting resident music industry expert, a guest lecturer, and speaking on the campus radio's Music Biz 101 program. (To hear a podcast of Riccitelli on MusicBiz 101, click here).
"We're very proud of Joe Riccitelli, not only because of his rise to the top in the music industry but also because he's been very kind and generous with our students by offering internships and answering all their questions about the music business," says Steve Marcone, professor of music at William Paterson.
Riccitelli works directly with all of the artists he represents and is committed to their success. He spearheads all aspects of pop promotion for more than 100 artists and also oversees the company's marketing, music licensing, and brand partnership departments. Previously, as executive vice president, promotion at RCA Records, he led his team to secure more than 100 number one records — 35 of those at the Top 40 format. He continues to champion the label's burgeoning superstars Sia, Miguel, Walk the Moon, Elle King, G-Eazy, Tinashe, and the Beachers. Riccitelli was responsible for signing Grammy-nominated Sia in 2014.
"Our successes are based on chart position. It's our report card," he explains. To get a record to the number one position means that every station across the
ountry is playing that record the most. His department coordinates with 400 to 500 radio stations on a weekly basis. Video broadcast, viral activity, and even Spotify influence the outcome. "They all create a big critical mass so that people are being exposed to the song at every level," he says.
In 2015, he founded Gold'n Retriever Records, an imprint for RCA named for his love of golden retriever dogs and passion for gold records. Having this label gives him another opportunity to go out and retrieve new artists, says Riccitelli, which is an exciting and fun part of his job.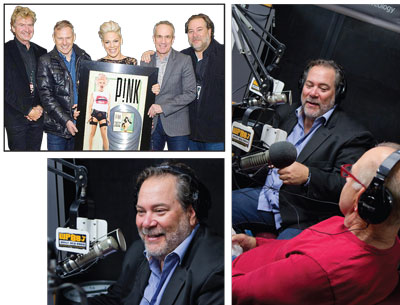 Riccitelli graduated in 1985 from William Paterson with a BA in communication. On campus, he was a deejay and public relations director for WPSC radio station. He loved playing music at the station, which had a limited reach to the Student Center and residence halls, and being a part of Thursday night music events at Billy Pat's Pub. Growing up, he tuned in to local radio and listened incessantly to countdown radio shows like Casey Kasem's American Top 40.
During his senior year, he landed an internship at Polygram Records in New York City. At the time, says Riccitelli, the company had Tears for Fears, Bon Jovi, and Def Leopard. "Being in that environment of people who were passionate about music, passionate about bringing music to people, and literally breaking artists was exciting to me," says Riccitelli. "I knew through that internship that I absolutely wanted to be in the music business."
Although William Paterson's music management program didn't exist back then, Anthony Maltese, professor of communication, was very encouraging and played a vital role in helping Riccitelli get into the business.
Riccitelli started working for Polygram on April 15, 1985, just a couple of months before graduation. From 1987 through 1991, he roamed the country, living in Boston, Charlotte, and Dallas, and gaining perspectives on the different territories. His next position was senior vice president, promotion, for Island Label Group from 1995 to 1999, working with U2, Melissa Etheridge, and The Cranberries. He later joined Jive Records.
"I've been truly blessed with my career and I know for a fact that I would not be in the position of being honored by the University if it wasn't for the supporting cast around me early on and the confidence that they gave me that I could achieve," says Riccitelli. "For me, paying it forward has always been important. And I want to still continue to do that with students because the music business will continue to need young, fresh kids coming in and taking it wherever it goes next."
Riccitelli says he listens to music all day long. It can be anything, from classical to jazz, or hip hop to pop and rock and roll. "I just really like music and try to stay open-minded," he says. "At the end of the day, I'm just a music lover."