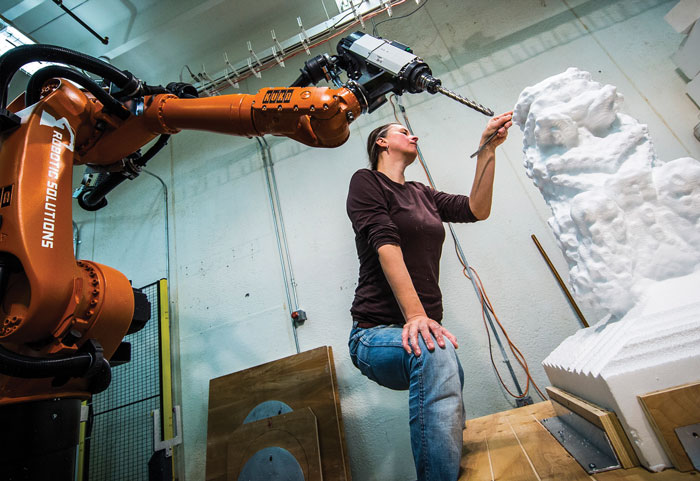 Other Stories
State-of-the-Art Robot Helps Students Create Larger-Than-Life 3D Sculptures
By Theresa E. Ross '80
With the touch of a computer, Professor Michael Rees brings the 14-foot KUKA Robot to life. It whirls into action, plunging its long arm to drill, carve, and peck away at a splattering block of Styrofoam that will result in a sculpture by student Carly Baker.
Baker's project was a self-portrait assignment where students scanned a 3D image of themselves, manipulating it on the computer in Cinema 4D and creating a file that was then carved by the robot. She continued to work on it by hand, using plaster on top of the Styrofoam to give it more of an expressionistic quality.
While pursuing a bachelor of fine arts degree, Baker is taking sculpture classes with Professor Rees, including his Sculpture in Digital Media class. The first time she saw the robot, she was amazed. "To be able to go on a computer, make a file, and then be able to see that file become a real object is really, just for lack of a better word, awesome," she says.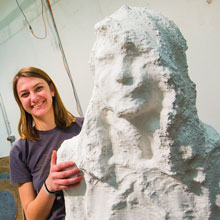 Carly Baker
The robot, acquired during the summer of 2015 by the William Paterson Center for New Art in the Power Arts building, is the first of its kind at a college or university in New Jersey. "It is exciting because it opens up the possibility for new things to happen that were not previously available," says Rees, a professor of art and director of the Center for New Art. "Students can use this robot to sculpt and carve works with no limit on their imaginations, allowing them to create figures that are larger than life."
There's also a demand for these skills in the fields of entertainment sculpture for products like parade floats and industrial sculpture projects like automobile design. Other areas include fine art applications, and decorative, architectural, and restoration work.
The state-of-the-art, seven-axis KUKA Robot is actually a large-scale robotic system. It combines computer modeling and animation programs with computer-aided manufacturing, and is capable of carving in a variety of materials, including foam, wood, and soft metals, allowing for precision sculpting of large-scale forms. Students in the University's College of the Arts and Communication are learning to use this advanced system thanks to a $270,100 gift from an anonymous donor.
"With the addition of the seven-axis robot to our progressive Center for New Art, William Paterson becomes the positive flashpoint in the state for innovation and advancement in higher education transcending disciplines in the arts, humanities, and the sciences," says Daryl Moore, dean of the College of the Arts and Communication. "It also provides a fertile environment for industry partnership opportunities in research and development."
"In addition to funding the purchase of the robot, the generous donation is helping to further establish the Center for New Art as a leader in the emerging art world," says Rees. The gift is helping to finance color 3D printing equipment and provide enhanced programming for students. A new course, Eco Techno, will allow student artists to combine ecology, technology, and 3D design. The donation is also helping fund a work-study program in Italy where students use high-tech robots to carve sculptures using historic Carrara marble.
The Center for New Art is a place where art, science, and technology converge, says Rees — a creative hub where artists have access to an unrivaled collection of high-tech equipment, which includes a CNC Gantry Mill, 3D printers, an automatic laser cutter, 3D scanners, and multiple supporting software programs.
At the Center, students are studying different kinds of applications with different kinds of materials. "We're developing a whole technique around plastic for carving and developing plastic," adds Rees. "We're also going to use the large-scale robot to do three-dimensional printing, which is a new field of manufacturing. It's done by taking a 3D object and printing the object one layer at a time, on top of another. That's an application and material we hope to develop here."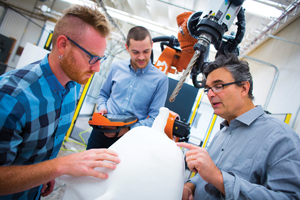 Graduate assistants Seth Bechtold and James Brehm
Seth Bechtold, one of three graduate assistants helping Rees in the Center for New Art, says the arrival of the robot was serendipity. "Lately my work is in sculpture and photography, and I'm merging the two," he says. Bechtold, who has experience working in a machine shop, is comfortable combining art and technology. "This semester I plan on using the robot to carve full-bodied portraits like classical sculpture and use the technology to create it in a new way. I want to turn it into something more intimate and vulnerable than classical sculpture," he adds. "The possibilities are all very new to art."
Rees relies on his graduate assistants to handle everything from routine machine maintenance to advising students, faculty, and visiting artists to realize their 3D files via a machining process, 3D printing, and laser cutting/engraving. And Rees invites their input when planning the Center's visiting artists, visiting professors, and lecturers.
Graduate assistant James Brehm nicknamed the robot "Blossom." "We thought that was a great name for it," says Rees, "because robots sometimes have a negative connotation in our culture, and are often depicted as violent in films. We want to say that this is a tool of creation. Works of art blossom out of it. We don't want to make it an intimidating thing."
Brehm has been putting together what he calls "very quick objects" in clay, almost like sketches. He then scans the object, such as a flower, and brings it into the computer so he can manipulate it before printing it out and casting it in metal, plastic, or different materials.
"The technology offers us infinite iterations," adds Sinead Macleod, another graduate assistant. "The exact same organic object that you could only make once can now be printed infinitely, and each print will have its own irregularities."
"So all the processes that used to be one shot only,' can now be digitized," adds Brehm. "You can also apply Photoshop-type techniques, for example, like adding and deleting layers before you create the final object. We're learning a lot." After graduation, Brehm says he may look for a job in digital fabrication, a process that joins design with production through the use of 3D modeling software or computer-aided design. He'll easily be able to do that with the skills that he is learning here, and still do his artwork on the side.
Rees emphasizes that robots like Blossom are usually found in physics, engineering, and computer science departments — rarely in an art department. "We are centering our technical activities through the arts with a humanistic focus. It's wonderful for students to have an experience with robotics and computers that winds up as art and not a product," he says. "Artists are participating in a new way in the development of technology and contributing to the development of culture."
Rees joined the faculty in 2008 and has worked with new media in his sculpture since the early 1990s. He is one of the first sculptors in the world to embrace the use of computer-aided design, 3D printing, and automated manufacture and blend it into a conceptual art practice. His works have been included in numerous exhibitions, including the Museum of Art and Design's exhibition Out of Hand: Materializing the Post Digital. He has won grants from the National Endowment for the Arts and the Rockefeller Foundation.
Other programs at the Center for New Art include a visiting artist lecture series, featuring approximately 10 artists a year, and an artist-in-residence which culminates in an exhibition held in the University Galleries in the Ben Shahn Center for the Arts. Most recently, the Center welcomed its first international resident artist, Helena Lukasova, a sculptor and digital artist from the Czech Republic. She spent four weeks at the Center and worked with the robot in an experimental capacity.
The Center for New Art is also making corporate connections with companies like AutoDesk, a 3D software company, to explore new technologies and new applications for technologies. Rees also welcomes collaborations with other University programs, including anthropology, environmental science, business, and computer science.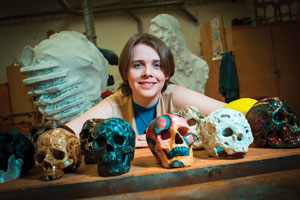 Jennifer Hastings '15 with her hominid skulls
Jennifer Hastings '15, a summa cum laude graduate who earned a BA in anthropology and a BFA in art, merged the two disciplines with a remarkable exhibit of human skulls and hominid skulls for her senior BFA thesis presentation. "I created them a few ways," explains Hastings. "I borrowed some of the specimens from the anthropology department, 3D scanned them, and put them into Cinema 4D, a modeling program. I then finalized the sculptures, and rapid prototyped them, which is a type of 3D printing where you build up material in kind of a plastic," she explains.
For her exhibit, Hastings chose to create the modern skulls in more traditional mediums, like ceramic and iron. The ancient hominid skulls, representing skulls from 2.5 million to 6 million years old, were rendered with more advanced technological mediums. "So I was making the material timeline and history timeline go in opposite directions," she adds.
Hastings sent her art thesis to graduate schools and has been accepted into two world-renowned schools in the United Kingdom for anthropology, where she plans to obtain a master's degree in osteology. "I'm so excited that I get to go from having an undergraduate BFA degree to a master's degree in science. You don't see that happen a lot."
Hastings will continue to combine her interests in art and anthropology. Scanning and printing using 3D technology is becoming important in anthropology right now, she explains, because there's a movement to digitally record all of the specimens so that they become publicly accessible.
Art students like Baker, who created the self-portrait sculpture, are finding that the Center for New Art is providing new worlds of exploration. Baker had never thought about using a robot or technology, and now it's opening a lot of doors for the art she wants to make.
"Not only can you turn a computer file into a real object, you can use that one file and print the same thing over and over again, and it will be just about exactly the same every time, which is something that is difficult to do without these tools and computer programs," she says. "On top of that, once you see your file become a real object and you are happy with it, you can now carve on a much larger scale with this new robot. Being here right now, with these tools, is such a great opportunity and I really am thankful for all that I am learning."
For a video of the new robot in action, visit bit.ly/WPBlossom