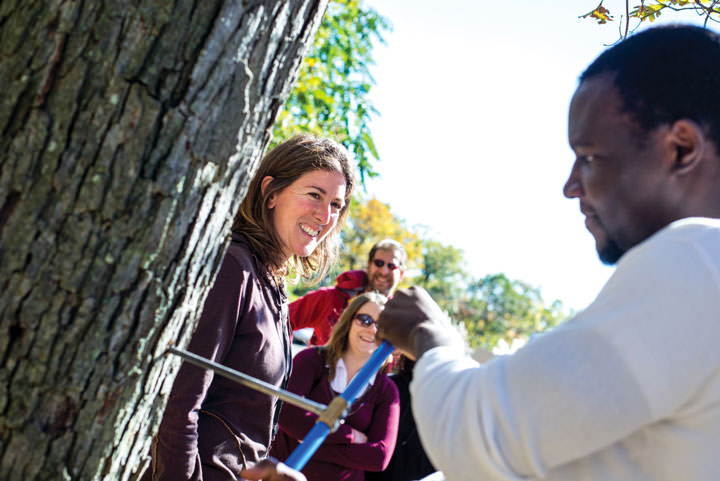 Other Stories
William Paterson's dedication to sustainability extends back more than a decade
A number of students have landed internships and other opportunities
On the Forefront of Climate Change Research and Education
By Mary Beth Zeman
On a sunny morning, environmental science assistant professor Nicole Davi leads the students in her Hydrogeology class across campus and up the steep steps to a wooded area adjacent to the Pioneer and Hillside student residence halls.
Davi stops by a chestnut oak at the edge of the woods, and takes out an increment borer, a special tool used by foresters, researchers, and scientists that will allow her to extract a section of the tree's core with relatively minor damage to the tree itself. After demonstrating how to use the tool, she encourages the students to take a turn using the very research instrument an environmental scientist might use in the field.
What can a tree's core sample tell us? A tree records information in its annual rings about the environmental conditions in which the tree lives, providing crucial data about precipitation, temperature, and other climate-based phenomena. For Davi, who also holds a position as an adjunct associate research scientist at the Tree-Ring Lab at the Lamont-Doherty Earth Observatory at Columbia University, the core samples extracted using this seemingly simple yet sophisticated tool have been the basis for a large body of research focused on understanding the Earth's climate.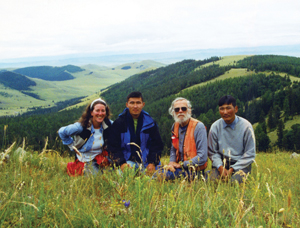 Professor Nicole Davi and her research colleagues on site
in Mongolia
That hands-on approach to learning is a hallmark of the University's environmental science department, which has imbedded field and laboratory experiences in every course the department offers.
"A lot of students haven't had much hands-on experience before they arrive on our campus," says Davi. "We want to get them excited."
Their approach is paying off. The number of students choosing to major in the department's degree programs—earth science, environmental science, and a environmental sustainability, which was launched in 2012—have increased more than 40 percent since 2010 and currently number about 120 students. And the job outlook for environmental scientists and specialists, which range from field researchers to public policy advisors on climate science issues, is positive, according to the U.S. Bureau of Labor Statistics, with employment expected to grow 15 percent over the decade from 2012 to 2022, faster than the average for all occupations.
Among the attributes that set William Paterson's graduates apart as they start to seek employment in the field is the program's unique combination of hands-on learning in coursework, a required internship or field experience, and a senior practicum in which senior students participate in a common practical project that simulates the working conditions of a professional consulting team.
But even more critical are the opportunities for undergraduate students to participate in original field or laboratory research with the department's active climate research faculty, who are engaged in cutting-edge research on the regional, national, and international levels, and whose projects span a timeline from millions of years ago to hundreds of years ago.
"We want our students to work on original research—collect fossils in the field, run fancy instrumentation in the lab," says Martin Becker, professor of environmental science. "These are the types of opportunities that are so essential to undergraduate education."
Davi concurs. "We want them to have a first-hand experience asking scientific questions or generating data," she adds. "It helps the students build the basics for jobs, which is very important."
Becker's principal research is focused on fossil shark teeth found in locations hundreds of miles from the shoreline. "The sea level has changed drastically over time," he explains. "We use fossil shark teeth as an indicator to study ancient climate." Becker has traveled across the United States to inland areas from Arkansas to South Dakota and Utah to collect fossils, which allow researchers to develop climate timelines from millions of years ago.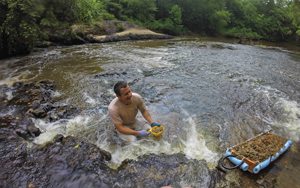 Professor Martin Becker in Alabama sifting for shark tooth samples
Closer to home, Becker has gathered fossils right in the University's own backyard on the 1,800-acre High Mountain Park Preserve that borders the campus and provides a significant field site. Known as glacial erratics, fossils contained in these boulders represent early sea creatures that lived near Albany, New York, and were transported more than 100 miles to our area during the last glaciation. "The facts are undeniable that the climate has changed," says Becker. "What we are trying to get a handle on is the rate of change."
Assistant professor Mick Griffiths travels to caves in remote mountains in Laos, Indonesia, and other countries in Southeast Asia in order to better understand the role of the tropics in global climate change over the past 100,000 years. Griffiths collects samples of the stalagmites that develop in caves and analyzes the geochemistry, in particular isotopes of oxygen and carbon, in order to gain a better understanding of the nature and causes of rainfall variability in the past. This information is critical to reducing the uncertainty of future projections of monsoon variability, especially in light of an ever-warming planet.
"Because the stalagmites in this region possess the extraordinary ability to preserve the chemistry of the above-cave rainfall, they present us with a natural rain gauge with which to look into the Earth's past," Griffiths says of his work, which is funded by a grant from the National Science Foundation in collaboration with Kathleen Johnson from the University of California-Irvine. "Indonesia is one of the most populous countries and they rely on the monsoon season for agriculture. If we can improve our understanding of the factors that influence the monsoon climate, we can reduce the uncertainty in climate model simulations, which are used to predict future changes in temperature and rainfall variability."
Becker and Griffiths are also working together on a project using Becker's collection of fossil shark teeth in order to gain a greater understanding of the ocean temperature. "The enamel of the teeth has been shown to accurately preserve the composition of the seawater at the time the tooth was formed," Griffiths explains. "By analyzing the tooth geochemistry, we can potentially gain an insight into past ocean temperature and seawater composition, along with the migratory patterns of the sharks."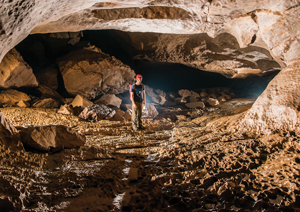 Professor Mick Griffiths in a cave in Laos where he has collected
samples of stalagmites
The pair have teamed up with a group of scientists at UCLA and Rutgers University for the analysis, and with a grant from the American Chemical Society, they have been supervising numerous undergraduate students from environmental science, biology, and chemistry to characterize the chemical and mineralogical composition of the samples.
Davi's research has taken her to the remote areas of Mongolia and Central Asia, where few long-term climate records exist, and where the population is extremely vulnerable to drought and climactic change. "The area we have focused on is one of the coldest regions in central Asia, where the trees are extremely slow-growing and long-lived," Davi explains. "In this harsh environment, trees can fall over and remain on the mountain top without decaying for 800 to 1,000 years. By using a combination of living and dead wood we can create millennial length records of temperature."
Most recently, she and her research collaborators published a paper in Quarternary Science Reviews describing a millennium-length temperature chronology for the region that confirms that recent decades have been the warmest period in the last 1,000-plus years. "We are placing recent warming trends in a long-term context, which will be critical for a region where herding is still a cornerstone of the culture, and climate change can lead to disastrous livestock mortality," she says.
In addition to the opportunity to study and pursue research projects with top climate science faculty, students can also benefit from the University's collaborative partnership with the Paterson Great Falls National Historical Park, just three miles from the University.
Through a grant from the Landsberger Foundation, students are helping to develop science-based curriculum packages for Paterson students in grades three through 12 that focus on topics evident in the park such as geology, hydrology, and ecology. "This Great Falls is really a living classroom where we can emphasize hands-on learning for these students," says Davi. "It also makes it possible for our undergraduates to have hands-on opportunities working with science content, especially those who plan to become science teachers, as well as explore the potential for National Park Service careers." (See sidebar)
Alumni and students point to the experiences they gained in the department's programs as providing a critical edge as they pursue employment or graduate study. Ralph Scimeca '15 worked closely with Becker on expeditions to gather fossil shark teeth, traveling to sites in Alabama and Arkansas. A new seventh grade science teacher in the Randolph school district, Scimeca says his research experience was critical to his current role.
"Working with Dr. Becker in these situations opened my eyes to how true scientific field work is conducted and has been instrumental in my future career in education," he says. "Every day in the classroom as a seventh grade science teacher I relate content directly back to those experiences I had while researching with him." Scimeca also plans to pursue a graduate degree at Brooklyn College beginning in spring 2016.
Rose Oelkers '15, who has worked with Davi on her tree-ring research, is currently serving as a staff research associate at Lamont-Doherty Earth Observatory. She continues to collaborate with Davi on a new technique to measure tree-ring data known as blue-light intensity, which provides a more precise measurement. "Rose was instrumental in helping me to develop this technique," says Davi.
"Our program is all about applying what you learn," says Griffiths. "We are truly giving our students a real-world experience."
To see more images of environmental science faculty and students, check out their Instagram page at instagram.com/explore/tags/wpuenvsci/