&
Legal Eagles: University's Pre-Law Program Leads to Success
By Mary Beth Zeman and Theresa E. Ross
"If you had asked me back then (at William Paterson) what I wanted to be, I would have said for sure that I didn't want to be a lawyer," says Gross. But despite her reservations, she spoke with Principe and he walked her through the program. "His energy and love for the field was a bit contagious," she says. "I became excited about the career path and the idea of going to law school."
Gross graduated magna cum laude from William Paterson, and went on to earn her degree from Cornell University Law School. Today she is a corporate attorney with McCarter & English, LLP and works in the Park Avenue offices of one of New Jersey's largest law firms, where she focuses her practice on business technology and outsourcing transactions and also advises on general corporate matters.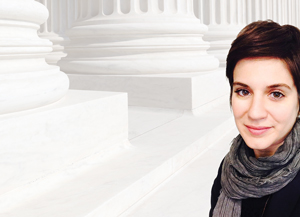 Valerie Gross '03
For students who wish to further their education by attending law school, the right preparation as an undergraduate can be the key to admission—and law school success.
"A pre-law program can provide valuable information to students, from law school acceptance rates and rankings, average LSAT scores, and special programs within law schools (such as healthcare, environmental, comparative, international, or human rights law focuses), to guidance for coursework, LSAT preparation, and the law school application process," says Principe, who has served as the University's pre-law advisor since he joined the faculty in 1998. "It helps students understand how the process works and how to properly prepare for law school."
William Paterson's program, which Principe developed, provides students with the foundational legal knowledge and critical thinking skills necessary for success in law school. Open to students majoring in any discipline, the program provides a variety of recommended courses and workshops intended to prepare students for the rigors of law school.
The result? Increasing numbers of program participants have gained acceptance and found success in law schools including Cornell Law School, Fordham Law School, Cambridge University Law School, Seton Hall Law School, and Rutgers Law School. "Most recently, we've sent three students to West Virginia Law School, and all three have been named to law review—which is a highly prestigious accomplishment," he says.
Principe brings a unique perspective to his role as pre-law advisor. "While many pre-law advisors are genuinely interested and do a fine job helping students prepare for law school, I found that very few have actually attended law school or taught at a law school," he says, noting that he holds a law degree from the University of Washington, and previously taught as a professor at Salmon P. Chase College of Law at Northern Kentucky University. "I believe my experience gives our students a tremendous advantage in that I can lift the veil and let them know what law school is really like from both the student and faculty perspective."
The program includes a number of core courses such as Constitutional Law: Judicial Process and Constitutional Law: Civil Liberties. Principe teaches these classes the same way he did as a law professor. "I combine the traditional law school method of teaching—examining cases via a process of asking questions—with lectures, and administer law school-type essay exams," he explains. "I believe that by using this method, our students are better prepared for the rigors of law school."
For Frank Ducoat '03, those courses were critical to his preparation for law school. Interested in the law since a high school class in constitutional law, he had found his niche as a philosophy major, where he did a lot of reading and debating. When he heard about the University's pre-law program, he enrolled.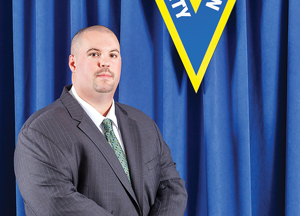 Frank Ducoat '03
"The courses that Dr. Principe teaches and the other pre-law courses in the program are just like law school courses in that it's the same kind of work," he says. "You read some cases, summarize them, and talk about how they would apply to more recent situations."
Ducoat, who went on to earn his JD degree at Rutgers University-Camden School of Law, is currently an assistant prosecutor and director of the Appellate Division in the Essex County Prosecutor's Office. In his position, DuCoat supervises and manages appellate prosecutors and support staff. He also briefs and argues cases in the Supreme Court of New Jersey and Appellate Division, and federal courts.
"Learning to get at the meat of a case…that's a skill that we use every day here," he says. "You read the case, and find out what's important it and use it to your advantage."
In response to the growing number of William Paterson students interested in attending law school, the University developed a major in legal studies that was launched in 2012. In just four years, the number of majors has more than tripled, from 22 to 78, and the program added a new faculty member, Ryan Rebe, who also holds a law degree.
"An integral part of the program is that it is an interdisciplinary major, involving such disciplines as political science, philosophy, English, women's studies, psychology, sociology, criminal justice, anthropology, environmental science, and business," says Principe. "Law does not exist in a vacuum so I felt it important to give our students a broad academic foundation before starting law school."
At the core of the major are a variety of public law courses that give students substantive knowledge of various aspects of law they will encounter in law school, such as the American judicial system, constitutional law, international law, comparative rights, administrative law, philosophy of law, judicial process, and the right to privacy. Courses offered by other disciplines give students a perspective on law that enhances their understanding of how law intersects all aspects of life.
In addition, Principe provides a series of workshops each year for students, inviting various guests such as lawyers, judges, and law school administrators to talk to William Paterson students about a variety of topics, from how to prepare for law school to the aspects of various specialties within the law, such as public law or corporate practice. Each year, alumni come back to speak to current students; both Gross and Ducoat have been among them.
"It was good to learn about all different types of law so I could decide what to go into," says Ducoat about the workshops. "It probably solidified my plan to go into public service." He tells today's students to make sure that a career in law is really what they want to do. "It's a commitment, both financial and mental," he says. Once they do know, he tells them to give it everything they have, and then focus on what's next.
Having attended William Paterson on a full-tuition Presidential Scholarship, Gross has kept close ties to the University. "I'm not sure where I would be without that scholarship," she says. "William Paterson made it all possible, and this is where I give back." Gross has donated scholarship money to the University's Summer Program at Cambridge University in England, a four-week summer program that Principe leads each year, making it possible for a number of economically challenged students to participate in the program.
"I'm so excited to see where the pre-law program is going and just the fact that it's a now also a major," says Gross. She enjoys connecting with current students. The legal field is going through a lot of changes, she explains, and attending law school is such a big decision. "When I speak with students, I encourage them to speak to their professors," she says. "You just never know what may happen."