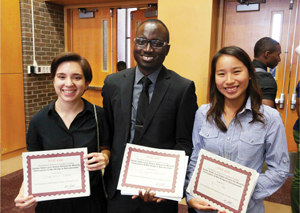 Faculty and staff continue to create valuable experiences for students beyond our campus that allow them to demonstrate their academic knowledge in their disciplines and test their skills against their peers. Their success also adds to our institutional pride and visibility.
In just the first two months of the fall 2015 semester, our students have gained attention on the national and regional levels:
*Three communication majors were invited to the White House to interview top Obama administration officials on college affordability and other topics. Students Joel Carasquillo, Michelle Martinez, and Eric Dargis, all members of the University's radio station staff, were accompanied by Rob Quicke, professor of communication.
*Eleven MBA students were chosen to meet billionaire investor Warren Buffett, CEO of Berkshire Hathaway, at his corporate offices in Nebraska later this month, along with students from eight other invited universities across the country. This is the second time William Paterson students have had this wonderful opportunity, thanks to our alumna and adjunct professor Susan Lisovicz '78, a former CNN business reporter.
*Four students received Outstanding Poster Presentation Awards at the 7th Annual Garden State-Louis Stokes Alliance for Minority Participation (GS-LSAMP) STEM Research Conference held at Rutgers University: Stephanie Costa, Erin Connor, and Eugene Dennis, biology majors, and Erica Wu, a nursing major.
*Our student team of Julian Perez, Camila Mills-Lamptey, Kristen Napoli, and Vincent Stark, all financial planning majors, won first prize in the National Association of Government Defined Contribution Administrators 2015 Annual Conference Retirement Quiz Bowl.
*Anthony Radice, a financial planning major, received a $5,000 TD Ameritrade NextGen Scholarship, one of only 14 recipients from across the country.
We look forward to many more such accomplishments and opportunities throughout the academic year.
Sincerely,
Kathleen Waldron
President
Photo: STEM poster winners Stephanie Costa, Eugene Dennis, and Erica Wu