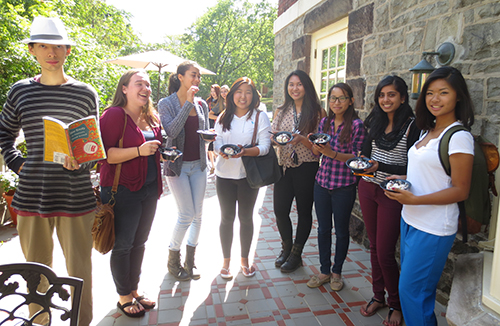 Honors College:
The Honors College publishes a newsletter several times per semester. Click

here

to get the latest news.

Congratulations to all of the outstanding individuals who were recognized during Honors Week 2015. Click here for more information about Honors Week 2015 and for a full presentation schedule.
Paperwork Deadlines:
5/1 All Honors theses and signed theses form are due to the Honors Office for all students who will participate in Convocation

5/1

Thesis Proposal Forms for all students doing research in the Spring Semester signed by advisor and Track Director due to the Honors Office
Honors Club:
The Honors Club is now on Instagram and Twitter! Be sure to follow us at

https://twitter.com/WPU Honors

and

http://instagram.com/wpu Honors

.

Students interested in Honors Club membership should use the following link to the Pioneer Life page to request membership: https://wpunj.collegiatelink.net/. Please be sure to select the "Honors College Club" link before registering and, note that students who registered during the fall semester should renew and resubmit their request for the spring semester. For more information, please contact the Honors Club President, Brandon Reis, at reis1@student.wpunj.edu.
Campus News:
Campus Activities, Residence Life, and Student Development will be hosting a Stop Hunger Now Event from 6-8:30pm on Tuesday, April 28th in the Multipurpose room. During the event, students will package 10,000 meals to be sent to schools in developing countries around the world. The program works to end hunger while providing children with an education. Special spots are being reserved for honors students as part of WPU's "De-stress Week". Sign-ups will begin in the Office of Campus Activities, on Tuesday, April 14th. Volunteers are in great demand, as help will be needed for both set-up and clean-up. If you are interested in volunteering for this event, please contact Stephanie Spies, at spiess@student.wpunj.edu.