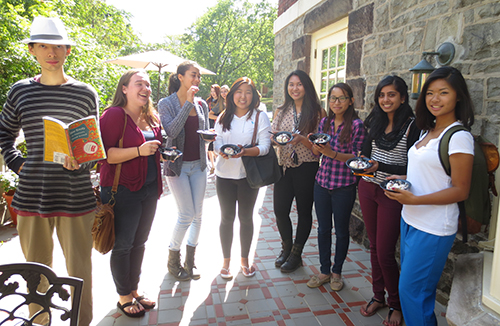 Honors College:
The Honors College publishes a newsletter several times per semester. Click

here

to get the latest news.

3/31

The Honors College is looking for students who are interested in participating in the mentoring program next fall. Please see Honors Weekly Announcements for information about the application process. Applications are due to the Honors Office by March 31, 2015.

4/6 Please note that priority registration will take place on Monday, April 6th. Be sure to schedule an appointment with your advisor before then. Dr. Dinan will be advising First Year Students (with the exception of music, nursing, and art students).
Paperwork Deadlines:
5/1 All Honors theses and signed theses form are due to the Honors Office for all students who will participate in Convocation

5/1

Thesis Proposal Forms for all students doing research in the Spring Semester signed by advisor and Track Director due to the Honors Office
Honors Club:
The Honors Club is now on Instagram and Twitter! Be sure to follow us at

https://twitter.com/WPU Honors

and

http://instagram.com/wpu Honors

.

Students interested in Honors Club membership should use the following link to the Pioneer Life page to request membership: https://wpunj.collegiatelink.net/. Please be sure to select the "Honors College Club" link before registering and, note that students who registered during the fall semester should renew and resubmit their request for the spring semester. For more information, please contact the Honors Club President, Brandon Reis, at reis1@student.wpunj.edu.

The next Lunch in the Lounge will take place on Thursday, March 26th at 12:30pm on the fourth floor of High Mountain East. We will be joined by Honors Nursing students Carolyn Woyce, Amanda Uhlick, and Emily Houwen who will be speaking about their recent mission trip to Haiti.

The Honors Club Food Drive is in full swing and will run through March 30th. Donations will be brought to Head Start, a local organization that serves families in need.
Campus News: