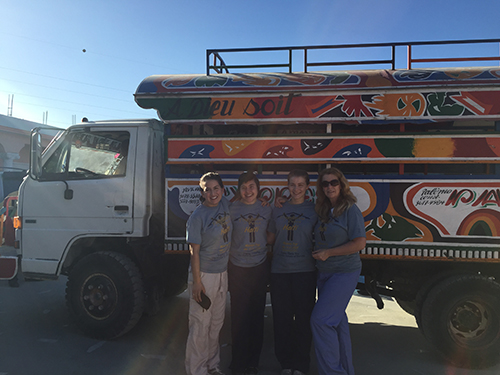 Pictured Above: Honors Nursing Students on Mission Trip to Haiti
Honors College Mission Statement
The University Honors College at William Paterson University is a place where academically gifted students explore new ideas and engage in intellectual and creative collaborations with experienced and dedicated members of the faculty. The University Honors College offers a rigorous curriculum with a challenging array of courses, seminars and co-curricular activities.
The University Honors College offers students a comprehensive educational experience that brings together the academic, residential, social and cultural experiences of its students. The College provides students with many opportunities to receive personalized attention from members of the faculty, in small classes that encourage discussion and debate, in independent tutorials where advanced students work privately with professors in their major area on a thesis or project of their own creation, in the residence living communities that will be visited regularly by professors and staff members, and in social activities that bring together the Honors community.
Students in the University Honors College take advantage of the University's wide ranging offerings, and augment them by developing individualized programs of study. Honors students have greater flexibility in choosing their University Core Curriculum courses and their Honors tracks. Honors students often also pursue minors and double majors. A goal of the University Honors College is to facilitate interdisciplinary study for all students, in first year clusters, in the tracks, and in the thesis.
The University Honors College is a community that includes all students enrolled in Honors University Core Curriculum classes, all students participating in a track, all faculty members teaching in Honors, all faculty overseeing a thesis, and all members of the University Honors College staff.