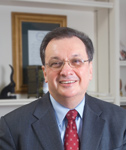 The collective efforts of faculty, staff, friends, and alumni like you enable William Paterson's students to prosper and achieve great things. Our University has faced many challenges through the years, perhaps none as daunting as today's economic environment. More than ever, we need your help.
Gifts to the Annual Fund provide the resources that turn ideas into opportunities. Please make your gift now at whatever level you can provide.
Your investment in our students will have an immediate impact on next year's programs.
You can make your gift by clicking here.
Thank you for your support.
Arnold Speert, President, William Paterson University