Pay it Forward
What a rewarding school year it has been!
This year, three of our Cotsakos College of Business students, Nathaniel Phillips, Calga Yildirim, and Nicholas Scheibner, competed at the National Financial Planning Association (FPA) conference in Denver, Colorado and brought home the top prize.
Even more impressive than their national title, these seniors have decided to create a scholarship for a future William Paterson student. In one of the most difficult economies faced by college graduates, our students are paying it forward. They truly are winners.
Today I'm asking you to make a gift and support the outstanding students and faculty who truly bring pride to our University community.
You can donate online at wpunj.edu/giving - and thank you, again, for showing our students how meaningful a gift to William Paterson can be.
Sincerely,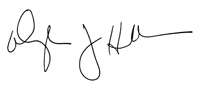 Douglas Hamilton, Sr. '75, President, William Paterson University Alumni Association