We are just a few days away from 2017 Commencement and there is so much happening at the William Paterson University Cotsakos College of Business to celebrate. I am pleased to share several pride points with you:
For the 10th year in a row, William Paterson University was recognized in the 2017 list of Top University Sales Programs for its Russ Berrie Institute for Professional Sales in the Cotsakos College of Business. The list recognizes William Paterson University for preparing students for successful careers in professional selling and helping to elevate the sales profession.
William Paterson University's Cotsakos College of Business is included in the 2016 edition of Princeton Review's, The Best 295 Business Schools. This marks the 7th consecutive year the Cotsakos College of Business has been featured in the book, which is well known for its college rankings based on how students rate their schools.
Over 90% of William Paterson MBA graduates are in management and leadership positions 6 months after graduation.
Our students represent the Will.Power spirit well. Visit the Cotsakos College of Business homepage at http://www.wpunj.edu/ccob/ for more details regarding our students' success at national competitions and conferences.
There are many ways to get involved, become more engaged, meet the Dean, become a mentor, or just stop by for a tour of the Valley Road campus. Please feel free to respond to this email so we can schedule a visit.
Wishing you continued success.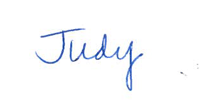 Judy Linder
Director of Development – Cotsakos College of Business
William Paterson University
Office of Advancement
Hobart Manor
300 Pompton Road
Wayne, NJ 07470
Tel: (973) 720-2309
Cell: (973) 460-1227
Email: linderj@wpunj.edu
William Paterson alumni are a force of nearly 70,000 strong––a worldwide network of graduates who have achieved great things in their careers, for our society, for our university, and for our students. Your accomplishments are a source of pride and inspiration as we continue to build the mission and values of William Paterson University.