Given your past engagement and loyal support of William Paterson University, we are reaching out to you today to make sure that your voice is heard as the University embarks upon one of the most important and transformational periods in its history.
Today, William Paterson is considering a comprehensive campaign and is undertaking a planning study to determine the availability of funds, perceptions about the University, and opinions on fundraising plans that would impact the ability to attract sufficient philanthropy. As we embark upon this important endeavor, your opinion is very important to us.
Over the next several weeks, the University will be conducting a strategic planning exercise to help inform and design a successful fundraising initiative to support the University's future needs. To guide us through this process, we have engaged the services of Graham-Pelton Consulting, Inc., a firm with extensive experience in conducting such planning exercises and managing campaigns for nonprofit organizations. As part of this study, we are inviting select alumni and friends to share their thoughts and feedback with us through an electronic survey.
To learn more about William Paterson University and its fundraising priorities, please click here.
To complete the short e-survey, please click here.
We ask that you please complete the e-survey before Wednesday, October 30th. Thank you in advance for considering this request. Your feedback is deeply appreciated.
Sincerely,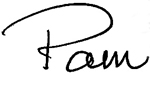 Pamela Ferguson
Vice President for Advancement