Dear Colleagues,

In recent months, the members of Strategic Planning Sub-Team 4B, led by Executive Director of Alumni Relations Janis Schwartz, have met to fulfill the objective of the University's strategic goal of "engaging alumni with students and faculty to enhance institutional and personal relationships with alumni." In response to their charge, the team has developed a survey to help them gain additional insights into the University community's current alumni engagement efforts.

At this time, I ask you, as a WP community member who plays an important role in engaging alumni, to participate in a brief ten question survey about your area's current interaction with alumni. Your responses, which should take no more than ten minutes, will provide valuable insights to the team as they lead University efforts in developing new and enhanced strategies to further alumni engagement.

The link below will take you directly to the survey. Please submit your responses by Monday, April 1.

WP Alumni Engagement Survey

Thank you in advance for your input. As always, please don't hesitate to contact me or Janis Schwartz at schwartzj3@wpunj.edu with questions.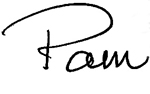 Pamela Ferguson
Vice President, Institutional Advancement