Dear Colleagues,

Thank you to everyone who has participated in the Strategic Planning Sub-Team 4B Alumni Engagement Survey. Your responses will assist the team in developing new and enhanced strategies to further the University's alumni engagement efforts.

If you have not yet had the opportunity, I hope that you will take just a few minutes to submit your responses before the Monday, April 1 deadline.

The link below will take you directly to the survey:

WP Alumni Engagement Survey

Thank you in advance for your input. As always, please don't hesitate to contact me or Janis Schwartz at schwartzj3@wpunj.edu with questions.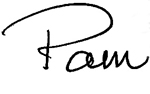 Pamela Ferguson
Vice President, Institutional Advancement