Welcome to the William Paterson Community!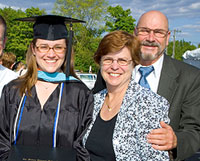 As your son or daughter begins a journey of educational and personal growth, we would like to acknowledge the parents and family members whose care and support are integral to his or her college experience.

This section, provides information about those aspects of the University that you may ultimately find important as a parent or relative. Use the roll-down menu above or the links below to find out more.
A Safe and Secure Community

Click here to learn about safety and security measures at William Paterson University.

Costs, Financial Assistance, and Scholarships

Click here to read about financing your child's education.

Class Profile

Click here to learn more about the most recent data for the Fall Class.

Academic Support Services

Click here to review the many sources of academic support available to William Paterson University students.

Campus Life

Click here to find a variety of information on the vibrant and diverse life on campus.

Residence Life

Click here to learn more about on-campus housing and our dynamic learning communities.

For Commuters

Click here to read about services tailored for the commuter student.

FERPA

Click here for information on the Federal Educational Rights and Privacy Act.