What is the Peer to Peer (P2P) Program?
The Peer to Peer Program is a volunteer based program to help incoming students ease the feeling of their transition during their first semester at William Paterson University. The P2P Program was developed to matches successful upperclass student leaders with new students, connecting them for a semester-long experience. The Student Leaders will assist new student leaders in learn more about the resources at WP, adjusting to the WP culture, and actively encourages engagement on all levels within the university. At the end of the semester students will have made connections on campus and feel empowered to chart their own course to success.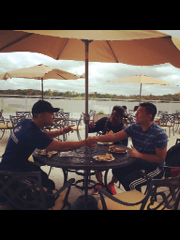 Interested in becoming a Student Leader in the Peer to Peer (P2P) Program?
Students interested in becoming a volunteer Student Leader P2P members must have at least a 2.75 overall GPA and have been a WPU student for at least one semester (fall/Spring). You must also have a genuine desire to assist others through the same transition you previously faced. Each leader must attend one of the mandatory P2P meetings and maintain contact (emails, lunch, attend events, etc) with peer and provide early awareness of at-risk students to P2P advisors. to accommodate hectic schedules the P2P has a variety of events and student to student group discussions lunch and dinners throughout the semester. We strongly encourage you to attend these events with your peer.
Final approval of Student Leader P2P members will be by Transfer Student Experience.
Interested in becoming an incoming P2P member?

All fall 2016 WP incoming students are eligible.
Program benefits of the to Peer Leaders
Serving as a Peer Leader is a valuable form of service that directly impacts the University community. By volunteering your time, energy and knowledge about college life, you contribute enormously to the success of the new students by helping them become acclimated and integrated into the University community!
Other benefits are:
Assist new students transitioning into Pioneers their first semester

Giving back to the WP community and strengthening WP connections

Build your communication skills & WP network

Great addition to your resume

Increase self-awareness and foster personal growth

Cultivate leadership, organizational, and self-management skills
Program benefits offered to Incoming Students:
A resource/support person in your college of study who you can talk to concerning what to expect your first semester

A contact who can keep you up to date on requirements and inform you of university and WP community opportunities

Assist with time management concerns as a commuter or resident
P2P ADVISORS
Keyana Darby
darbyk@wpunj.edu
Dawn Decker
deckerd5@wpunj.edu
**The numbers of P2P connections are assigned on a first-come, first-served basis.**