WPU Services and Resources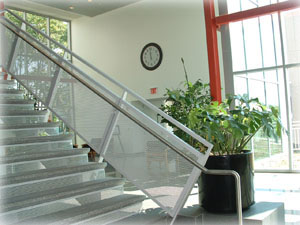 - General policies & other information for students can be found in the Undergraduate Catalog & Student Handbook here.
- William Paterson University's communication policy can be accessed here.
- The Academic Misconduct & Fraud Policy can be accessed here.
Academic Support Center provides students one-on-one tutoring assistance for numerous basic skills and lower-and upper-level courses. Other offerings include academic skills workshops, access to the network computer facilities, study groups, exam review sessions and supplemental instruction (SI). The Academic Support Center is also the department that deals with the Early Alert Program.
The William Paterson University Alumni Association, with more than 62,000 members who are William Paterson graduates, helps with personal and professional matters of the WPUNJ alumni society. They provide information regarding benefits, services and discounts available to alumni. Those interested in getting involved or donating to WPUNJ may do so through the Alumni Association website.
The goal of the WPUNJ athletics program is to provide students with an educationally sound and athletically-competitive experience. The University provides 12 sports for both men and women. In addition, many opportunities are available for those who are not interested in competing athletically, but who enjoy sports. These include serving as an athletic trainer, a team manager, a member of the Student-Athlete Advisory Committee, or, equally important, an avid fan and supporter. The Student-Athlete Handbook which provides specific information related to the athletics program and its policies and procedures at William Paterson University can be accessed here.
The mission of the Basic Skills Program is to ensure that our students have every opportunity to be successful in college by properly assessing their level of preparedness, by offering appropriate level coursework and by encouraging student use of support systems. The program seeks to develop critical thinking, problem solving skills and strategies, and overall growth in intellectual competence. The William Paterson University Basic Skills Placement Test, an instrument which determines a student's skill level in English and mathematics is administered to prospective students on an ongoing basis. Review material/sample questions can be attained/printed on their website or by contacting the office.
• Campus Activities and Student Leadership
J. Victor Machuga Student Center - Room 302/ Extension 2518
Campus Activities and Student Leadership provides a diverse activities calendar of events throughout the academic year, sponsors club fairs and supports a variety of Theme Celebrations. The departments goal is to empower students to become actively engaged citizens. A variety of student leadership opportunities exist within the Student Government Association, Greek -lettered organizations as well as over 50 academic, cultural, social, programming, religious, and media groups on campus. In addition, the office is responsible for coordinating and overseeing new student Orientation Programs. A general list of programs and services provided by the office can be accessed on the department's website.
Career Development and Advisement Center provides a comprehensive program designed to assist students, alumni and parents in making appropriate choices related to selecting a college major and ultimately defining their career goals. Undeclared students can seek out personalized advisement and all students are welcome to receive personalized career guidance, attend job readiness and career planning workshops, and job search assistance. The departments Facebook page can be accessed here.
The Office of International Students and Scholars (OISS) develops, coordinates and supports international, interdisciplinary academic and development activities. The Office provides assistance to international students and visitors to ensure quality international experience while on campus. William Paterson University offers a wide range of study abroad programs, including a National Student Exchange, faculty short terms programs and NJSCIS programs. Eligibility requirements include that you must be a full-time undergraduate student of at least sophomore standing with a minimum GPA of 2.5.
Center for Student Services strives to serve as the one stop campus resource to students in an efficient, effective and user-friendly manner in both the physical setting and online, including through student assistance by means of video tutorials. Services conducted within the Center are as follows: student account billing inquires and payment, status of pending grants, loans, and refunds, release of official University records and verification of enrollment, name and address changes, and parent/student FERPA release documentation. The department is also responsible for providing students with information about the University Policy Regarding Email Communication, which can be found on the department's website here.
The Office of Educational Enrollment and Certification is a component of the College of Education. The Office is responsible for coordinating admissions into the programs at all levels, monitoring successful academic progression, informal advising and communicating information relevant to certification programs, assisting with Praxis preparation and registration, and compiling and reporting Title II data while supporting the College and the University in promoting student success, academic excellence and educational quality.
Child Development Center provides an affordable and balanced preschool program for children and grandchildren of William Paterson University students, staff, faculty and alumni. The center is licensed by the State of New Jersey Department of Children and Families and is part of The College of Education. Included on the departments website is the Family Handbook which serves as a guide and provides general information about the Child Development Center's program, policies and procedures.
Commuter Services provides support and guidance to commuter students. The office operates under the auspices of Campus Activities and Student Leadership, and participates fully in the areas of Orientation, Program and Services, Advising and Recognition, Special Events, Women's Center and Student Leadership. In addition, the office assists students with their public transit and University shuttle transportation and provides the WPUNJ community with updated information regarding New Jersey highway traffic information, including traffic jams, and delays in the local area.
The Center for Continuing & Professional Education provides its student's with nationally recognized Certifications to establish their value and prove to employers that they are a highly-skilled addition to their team. The center helps those interested acquire real-world and relevant skills, explore supervision and leadership, marketing and sales, non-profit management, etc. Individual employees or businesses can enhance skills with customized training programs that allow for learning at all ages and stages. The center also words with businesses that are interested in Corporate Facilities Rental's for their next event. Entertaining programs, trips and events information is available on the website. Cancellation policies can be located here.
The mission of the Counseling, Health & Wellness Center is to provide clinical, educational, and outreach services to William Paterson University students. Counseling Center staff members facilitate students' personal, social, and intellectual growth, as well as adjustment to, and engagement with the University community. Counselors help students identify and work through personal barriers, normal developmental issues and stressors, and clinical problems that may impede academic success. The Center is staffed by physicians, psychiatrists, advanced nurse practitioners, registered nurses, health educators, psychologists, social workers, and student trainees in these fields.
Health and Wellness Center staff members provide care for students who are ill or injured. Through health related counseling and education, the center supports students' efforts to maintain their physical and emotional well being and make informed decisions that promote personal wellness and affect lifelong health. The Health and Wellness office is staffed by advanced practice nurses (nationally certified nurse practitioners), registered nurses and a physician consultant. The Counseling, Health & Wellness Center is the department student's should seek out when looking for information regarding health insurance, pharmacy availability and WPUNJ health requirements.
David and Lorraine Cheng Library serves as the academic information center of the University. Its primary goal is to acquire, organize and provide access to scholarly materials in traditional and emergent media, to support the educational programs of the University, to assist and instruct in the use of information resources, to provide a balanced and diverse collection, and to offer the broadest possible access to information whenever available. The library serves students, faculty & staff, students at MCCC and alumni and non-WPUNJ members of the community. Library policies can be accessed on the libraries page.
Department of Recreational Services provides a wide variety of recreational and educational opportunities and programs to enhance overall student wellness. Recreation Center, open 7 days a week, is a place for students, faculty, staff and alumni to get together with friends to have fun, get in shape, and relieve stress. The department provides students with opportunities to get together for scheduled hikes, fitness classes, swim classes, and intramural/club sports. Students should also contact this department regarding CPR/First Aid certification or Lifeguard training. The center contains a gymnasium, four racquetball/handball courts, a weight room, a fitness room, a multipurpose room with dance mirrors, exercise mats, etc., a lobby with games such as shuffleboard and air hockey, locker rooms an indoor pool and a control desk/sport shop where users of the facility can check out, rent and/or purchase sports equipment and supplies or visit the Ticketmaster Outlet and Box Office. The Recreation Center's membership information and Policies & Procedures are available on the department's page.
Department of Telecommunications provides telephone and voice-mail service to residential students. In addition, the department is responsible for transport network infrastructure and supporting equipment for voice, video and data connectivity inclusive of cellular, wireless and electronic devices for the University. They provide for and maintain the health and security of the network and provide the campus community with advisory services and assistance including emergency notification services.
The Education Enrichment Center's (EEC) mission is to enhance students' intellectual growth and personal development. EEC develops and implements student centered learning assistance programs that will augment students learning potential and empower them to succeed academically. Programs and services offered include the Alchemy Program, University Mentoring Network, EEC Future Focus, Brother to Brother, IMAGES and the Computer Resource Lab.
The Educational Opportunity Fund Program (EOF) of William Paterson University (WPUNJ), a charter member of the Chi Alpha Epsilon National Honor Society is committed to excellence and access. Their mission is to make a college education possible for students who require academic and financial support. The EOF Program at William Paterson University seeks to provide students with the tools for and commitment to lifelong learning, leadership skills, and personal responsibility. They value student engagement and participation in the educational process. Information regarding the programs Summer Academic Institute (for first-time freshman in the program), individual and group counseling, EOG Grant Assistance, tutoring, the pre-nursing program (six-week EOF Summer Pre-Nursing Program), academic retreats and workshops, EOF Peer Network and book deferment/book loan programs for EOF members, can be found on the programs website.
Through programs and policies the Office of Employment Equity and Diversity is dedicated to the overall strategic goals of academic excellence, community outreach and student success. Equal opportunity in all programs and services for students, faculty and staff is encouraged, valued and supported. The OEED serves as a resource for the University community and is responsible for ensuring that the University complies with federal, state, and local laws pertaining to equal opportunity, affirmative action, nondiscrimination, and harassment. The office individuals to other University Departments for concerns outside the scope of OEED and provides students, faculty and staff with training/workshops on equal opportunity, affirmative action, non-discrimination, sexual harassment and other forms of illegal harassment. OEED policies and procedures, affirmative action forms and non discrimination policy can be accessed through their website.
The University Honors College at William Paterson University facilitates interdisciplinary study for all students, in first year clusters, in the tracks, and in the thesis. It offers a rigorous curriculum with a challenging array of courses, seminars and co-curricular activities for gifted students to explore new ideas and engage in intellectual and creative collaborations with experienced and dedicated members of the faculty in the course of individualized programs of study. Students can obtain resources such as websites, forms and documents provided by The Honors College on their website. The Honors College publishes a newsletter several times per semester.
Hospitality Services is responsible for staffing the Student Information Center, during operating hours students are available to answer questions and provide general information about the University and to make appropriate referrals. In addition, staff can also assist and provide information on the Dining Program/services, Pioneer Express Plan, ID cards, University Bookstore, Technical Services/Forms and Vending services. The University Bookstore is located on campus and online.
The Office of Human Resources is committed to the recruitment, employment and development of a diverse, talented workforce comprised of the WPU faculty and staff. They create and provide learning opportunities for employees and ensure that all employees are paid accurately and promptly and that all employees have a sound fundamental understanding and appreciation of the value and worth of their Health and Pension benefits plans and options. Online services, through WP Connect, provide faculty and staff with access to information and applications to conduct daily business. Through the offices website, employees and members of the WPUNJ community can view current WPUNJ policies and procedures, handbooks, publications and union contracts, and Federal & State Employment Posters. The Resources Review Newsletter is published by the Office of Human Resources.
The University provides a wide range of technology services for students and faculty including but not limited to; laptops for student/classroom use, and faculty/student tutorials. Support for technology in education and learning is provided by Instruction and Research Technology (IRT) in more than 20 labs both on the main campus and at 1600 Valley Road. Recent additions to the department are the Center for Teaching and Learning Technology and the Bb On Demand Learning Center.
Multimedia Language Center and a sub-department, The Center for the Study of Critical Language, supports and enhances instructional delivery of foreign language courses offered by the department of Languages and Cultures as it integrates an innovative multimedia Intranet/Internet based learning and teaching environment into the language curriculum.
The mission of the Office of Disability Services (ODS) is to assist students with documented disabilities by ensuring that reasonable accommodations and services are provided that guarantee equal access to all programs, activities and related benefits of the University's educational programs. They are committed to providing access for all students with disabilities to educational programs, activities and related benefits of the educational programs, in accordance with the ADA, Section 504, and applicable state law. Services include but are not limited to, registration assistance, extended test time, note-taking services and parking assistance. The Office of Disability Services policies can be accessed at: http://www.wpunj.edu/disabilityservices/policies.dot.
Financial Aid provides financial assistance for eligible students in order to permit access to a William Paterson University education. All students must file a Free Application for Federal Student Aid (FAFSA) to determine their eligibility for state and federal financial aid (grants, loans, campus employment) and consideration of various Institutional and Foundation and Alumni Association Scholarships. Students must also be familiar with Student Rights & Responsibilities and FERPA. This information is available on the department's website. Information regarding NASFAA's Statement of Ethical Principles and Code of Conduct for Institutional Financial Aid Professionals can be accessed at http://www.wpunj.edu/dotAsset/262883.pdf.
Office of First-Year Experience works to implement a comprehensive University plan for first-year students to promote a smooth transition from high school to college, acclimate them to the University's campus, educate them in various academic-related topics, integrate co-curricular activities, and identifies solutions for roadblocks to their success. The office organizes annual convocations, the Peer Leader Program and First Year Seminar. They work collaboratively with faculty, staff and other departments to implement a comprehensive university plan for first-year students.
William Paterson University offers 19 graduate programs leading to a degree, in addition to teacher certification and endorsement programs through its five colleges. Graduate studies at William Paterson University offer first-class faculty and sophisticated educational resources. The faculty includes twenty-five Fulbright scholars and professionals who are among the top faculty in the nation. Graduate Studies and Academic Policies can be accessed here.
The Provost is responsible for leading the development and implementation of academic planning for the University, overseeing curriculum and degree development, and administering the budget for the Academic Affairs division. As part of the President's Cabinet, the Provost works with the other vice presidents at the University to maintain the quality of programs and services offered by the University. In addition to the five academic colleges, the Provost oversees the work of Graduate Studies and Research, Academic Development and Academic Support Centers, David and Lorraine Cheng Library, Institutional Research and Assessment, Continuing and Professional Education, International Students and Scholars, Honors College, Center for Teaching Excellence and the Office of Sponsored Programs. The office provides access to the student success plan and academic plan.
Office of Registration Services is responsible for the preparation, maintenance and security of all student records for Undergraduate and Graduate, current and former students. Registration information, verification of enrollment, name/address change, course repeat policy, academic calendars and other related information can all be accessed from the Registrar's website. A statement of the University's policy will appear annually in the student handbook and is available to all currently enrolled students.
The Office of Sponsored Programs (OSP) provides assistance and support to WPUNJ faculty and staff who seek external grant or contract support for research, teaching, service, public programs, creative endeavors, conferences and other types of projects from government agencies, grant-making public charities and some private and corporate foundations. The OSP concentrates its activities in pre-award services, post award services and non-financial compliance. Students, Faculty and staff can access the Policy on Human Subject Research at WPU, the IRB training/Certification program and relevant IRB forms on OSP's website.
Office of Student Accounts is responsible for billing and collection of tuition and fees, room and board, waivers, health insurance, delinquent student liabilities and Perkins Loans and processing student refunds.
Office of Testing provides tests and testing services to the University community. Administered tests include the William Paterson University First Year Foundations Placement Test, the Foreign Language Proficiency Exam, 35 CLEP exams (College Level Examination Program which permits students to earn credits for general introductory courses), the PRAXIS Series, the Law School Admission Test (LSAT), the Scholastic Aptitude Test (SAT), the Millers Analogies Test and Distance Education Exams.
William Paterson University has five colleges offering 44 undergraduate programs and some of the most technologically savvy learning environments in the state. The course catalog can be accessed on the undergraduate admissions website.
The Residence Life Staff encourages resident students to become actively involved in your residential community and campus life through the many programs and activities that are offered during the course of the academic year. Staff works to foster a community that values diversity and promotes mutual respect. They intend to provide co-curricular experiences that are essential to the development of our current and future students. The refund policy and residence life handbook can be accessed on their site.
Science Enrichment Center provides tutorial assistance in the sciences, references, a Virtual Science Resource Center, laboratory equipment, multimedia, study and other science skill training, workshops, cooperative learning, technological assistance and mentors. Tutoring is provided in a variety of ways including by phone, online, study groups, drop-ins, or by posting a question on the SEC Bb Discussion Board. The SEC website is regularly updated with information on scheduling, hours and other relevant information.
The Small Business Development Center helps small businesses who are looking for ways to expand their business or advice to get past some rough spots, as well as people who are just starting out their business. They offer short, practical seminars to help those interested in staying current and strengthening their management skills.
Speech and Hearing Clinic offers speech, language and/or hearing screenings, complete evaluations, and therapy to clients of all ages. Education majors are required to undergo a speech/language and hearing screening. Services are provided by graduate and undergraduate clinicians to students at no charge. Information regarding fees for those who are not students at WPUNJ is available upon request. Student clinicians and supervisors also perform speech, language and hearing screenings at programs not affiliated with the University, such as nursery schools, Head Start Programs, and health fairs. The William Paterson University Chapter of the National Student Speech Language Hearing Association (NSSLHA) is a pre-professional membership association for students interested in the study of communication sciences and disorders.
Department of Public Safety/University Police is a resource support unit that is continually in pursuit of excellence and is noted for its community service orientation, effectiveness, and crime prevention. The University's most recent Annual Security Report is linked to their page. Through community participation, the Department provides a safe living and working environment in support of higher education and research. Police officers and security officers are on duty 24 hours a day. On their page, members of the WPUNJ community can learn valuable information about public safety and transportation services, emergency management and the related programs provided to the campus, as well as regulations regarding traffic and parking. Any questions about safety on the campus can be directed to the Department of Public Safety at 973.720.2200. To report an incident, please call 973.720.2301. For emergencies, dial 911 from any campus phone or use the Emergency Bluelight telephones located around the campus. University Police Department policies are available here.
Writing Center, part of the English Department, provides one-on-one tutoring, working on any kind of writing in any stage of development. Session topics usually include information about style, logic, voice, transitions, grammar, organization, proofreading and editing.
Women's Center works collaboratively with on and off campus services and programs to increase students' understanding of the interconnectedness of race, class, and gender with a particular focus on women, feminism, sexual identity, and women's empowerment. DVRT training and LGBTQA program information is available online.
William Paterson University
300 Pompton Road
Wayne, New Jersey 07470
973-720-2000