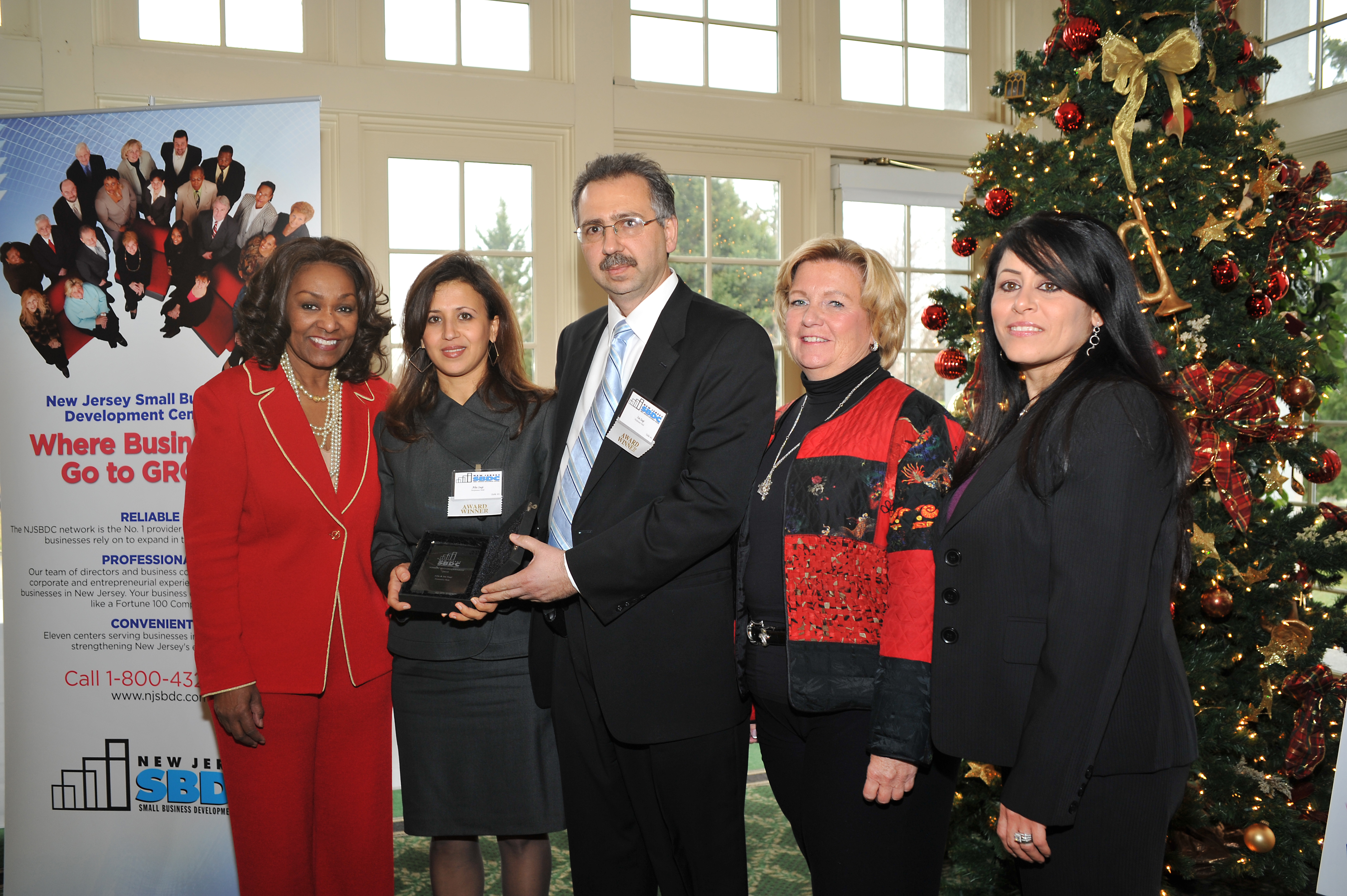 From left to right Brenda Hopper, Alia Suqi, Isa Suqi, Kathleen Muldoon and Sonia Musa
Nextwave Web
Alia and Isa Suqi founded Nextwave Web in August 2003 in the basement of their home. Building on strong business relationships developed in their careers prior to starting the business, the Suqis began working with clients to manage their printing projects from beginning to end. They turned to the Small Business Development Center in Paterson for help with product pricing and guidance regarding small business loans. "The SBDC was a great resource when we started the business, and they continue to serve as a valuable sounding board," says Alia.
As the business grew, the Suqis partnered with an existing printing company to rent office space and purchase a digital press. In order to meet tight deadlines, Nextwave Web began to handle some of the printing rather than outsourcing all jobs to other printers. Continued business growth allowed the Suqis to invest in more printing equipment and also hire two employees.
In 2005, a printing shop went on the market in Paterson, New Jersey. "We met with the owners and made the purchase deal in less than two weeks," says Alia. In January 2006, after renovating the building and upgrading all the machines, Nextwave Web began producing all printing work in-house. Utilizing two SBA loans, the company purchased a 40-inch, six-color, offset press as well as color and black and white digital presses. All bindery equipment was upgraded, and more was added.
Currently, Nextwave Web employs six full-time employees and one part-part time employee as well as two sales representatives. Among the company's clients are the following: Horizon Blue Cross Blue Shield, Clinique, New Jersey Institute of Technology, International Federation of Accountants, William Paterson University, Montclair State University, Kean University, Passaic County Community College, and United Way of Passaic County. Annual sales are expected to exceed $2 million in 2010.
"Because of our knowledge, hard work, integrity, and superior service, we have been able to stay profitable in a challenging economy and a tough industry," says Alia. As the printing industry has suffered and online printing companies have gained market share, Nextwave Web's sales have remained strong. No employees have been laid off and the company has retained its clients. "We pride ourselves on great customer service, reliability, and a turnkey approach to handling our clients' printing needs," says Alia. "These strengths have helped our company to weather the storm during this difficult economy."
Nextwave Web is a Small Business Enterprise and a Women's Business Enterprise certified by the state of New Jersey. The company is also nationally certified as a WBE by the Women's Business Educational National Council. Alia Suqi serves on the Executive Committee and Board of Directors of the North Jersey Regional Chamber of Commerce. She is also a member of the Paterson Rotary Club.