The two newest residence halls opened in 2006 to help meet the growing student demand for a 24-hour-a-day, 7-day-a-week campus experience. The expansion of residential space on campus is part of the creation of a "learning village" where student interaction, creativity, and community building continues through the day and evening inside and outside of the classroom.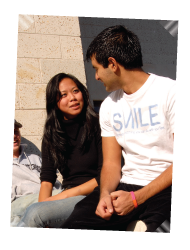 High Mountain East houses primarily freshmen, and is the hub for our Honors College. There are specific requirements for residing in this area. Our rooms are suite style, and are centered around common area lounges. These lounges are equipped for wireless technology, and the building houses two smart classrooms which are used as part of the living/learning experience.
High Mountain West is the upper class facility for students with a cumulative GPA of 2.8 or higher. All rooms are suite style, and are centered around common area lounges. Rooms are equipped with cable TV, Internet access, and phone service (on-campus calls only).
Students who are interested in residing in either of these areas can contact the Residence Life Office at 973-720-2714.
The buildings are smoke free. No smoking is permitted in suites, hallways, and common areas, and there are smoke detectors and fire prevention sprinklers in everyroom.
The High Mountain East/West Office is located in High Mountain West G15; phone 973-720-5460.