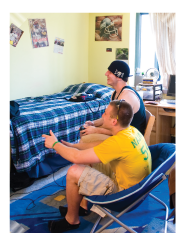 Starting this fall 2016, White Hall will feature a community of graduate studies students assigned to single rooms on the 1st, 2nd, and 3rd floors. The single rooms share a bathroom with a connecting single room. The hall has four floors, (no elevator). Upper class students may also request to live in this community on the 4th floor in double rooms, and must be age 20 with 58 credits or age 21. There is a main lounge in the building, as well as kitchens on the 1st and 3rd floors. Free laundry machines are available in the building. The community has wireless Internet, and is air-conditioned.
A new 12-month option for housing is available to students who meet certain criteria.
The building is smoke free. No smoking is permitted in suites, hallways, and common areas, and there are smoke detectors and fire prevention sprinklers in every room.
The White Hall Office is located in Room 110; phone 973-720-3530.