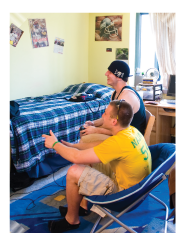 White Hall houses a total of 100 students, accommodating freshmen through seniors. White Hall houses our substance -free community on the 4th floor of the building. The hall has four floors, with rooms arranged in suite style with two rooms connected by a bathroom, and each room accommodating two people. There is a main lounge in the building, as well as a kitchen, along with laundry and vending services. The building is wired for cable TV and wireless internet, and is air-conditioned. There is no elevator.
The building is smoke free. No smoking is permitted in suites, hallways, and common areas, and there are smoke detectors and fire prevention sprinklers in every room.
Assignment to White Hall is allowed after review of the required community application. Students interested in the 4th floor Substance Free community, must agree to the conditions of assignment by signing the White Hall Substance Free Agreement. The White Hall Office is located in Room 110; phone 973-720-3530.