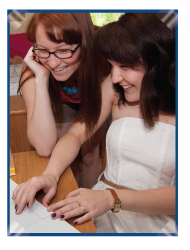 The Overlook complex houses freshmen through seniors, with 443 students in Overlook South and 528 students in Overlook North. Our Freshman Connections housing program is located in these buildings, with the majority of the participating students living in Overlook South, a completely first-year living community. All rooms in both buildings are arranged suite style, with two students sharing a room which is connected by a bathroom to another room that is occupied by two students of the same gender. There are a limited number of single rooms that are awarded to students with documented medical need after a review by Residence Life with the Health and Wellness Center. These living communities offers air conditioning, cable TV, and wireless internet in each room. Student lounges are available on all floors, vending machines are in the main lobby areas, and laundry facilities are available as well, which are free of charge for all resident students.
The buildings are smoke free. No smoking is permitted in suites, hallways, and common areas, and there are smoke detectors and fire prevention sprinklers in every room.
The Overlook Office is located in Overlook North, Room D29; phone 973-720-2381.