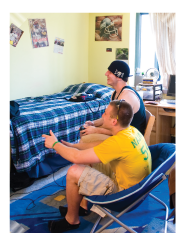 Pioneer and Heritage Hall apartments house upper class students, 250 in each building, who are 21 years of age or older or who are 20 and have completed a minimum of 58 credits of study. Pioneer Hall also has a few apartments reserved for graduate studies students who would prefer to cook for themselves and not purchase a meal plan. Each apartment is occupied by four students, and is furnished with beds, desks and chairs, wardrobes, living room seating, and a dining table and chairs. Both complexes are fully air-conditioned. All apartments have wireless Internet, and there are laundry rooms and vending machines located in each building.
Students are expected to maintain the cleanliness of their own apartment, including the kitchen and bathroom areas, and must remove all garbage and recyclable items to designated areas outside the buildings.
The apartments are smoke free. No smoking is permitted in suites, hallways, and common areas, and there are smoke detectors and fire prevention sprinklers in every room.
The Apartments office is located in Pioneer Hall 106; phone 973-720-2600.