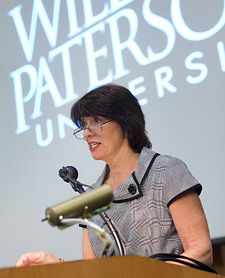 President Kathleen M. Waldron
Good afternoon and welcome to the 2010-2011 academic year!
I have looked forward to this day for a long time! It is truly an honor to formally address you for the first time as the seventh president of William Paterson University.
Over the past few months, I have enjoyed meeting many people and in the months ahead I look forward to meeting many more. Let me tell you that I am very impressed with your strong, unified sense of commitment to this institution. In your conversations, you always put the students first and you understand and accept our mission and our responsibility to educate the people in our community. I am touched by the warm greetings from so many within the University community who have made me feel right at home in my new role. From the moment I met him, Arnie Speert reached out and provided a transition that could not have been smoother. I am so grateful for his professionalism, support and graciousness.
From the start, I was impressed by the wide-ranging expertise of the faculty who are recognized in New Jersey and beyond for their scholarship, research, and creative works, and, most importantly, are so valued by their current and former students as teachers who have enriched their lives. I was struck by the drive and determination of the students. I was impressed by the commitment of the alumni. I observed the learning environment and envisioned myself immersed in the intellectual and cultural richness that thrives on this beautiful campus. I witnessed a sense of collaboration throughout the academy.
It is my longstanding conviction that faculty form the core of what makes a University great. Excellent faculties attract excellent students and excellent students attract excellent faculty. William Paterson University has an excellent faculty and we will continue to support our faculty and hire new faculty as needed. With that said, we should all welcome the 22 new professors 1 dean and 7 professional staff to our community.
Our new faculty members are:
Department of Communication: Kyung-Hyan Angie Yoo
Department of Accounting and Law: Valeriya Avdeev
Department of Economics and Finance: John Malindretos and Ge Zhang
Department of Marketing and Management Sciences: Jorge Arevalo and Bela Florenthal
Department of Professional Sales: Raj Agnihotri and Prabakar Kothandaraman
Candace Burns, Dean of the School of Education and Professor of Educational Leadership and Professional Studies
Department of Educational Leadership & Professional Studies: Thelma Baxter
Department of Elementary & Early Childhood Education: Victoria Fantozzi and Lisa Warner
Department of Secondary & Middle School Education: Thomas Fallace
Department of Special Education & Counseling: Amanda Mazin
Department of English: Christopher Salerno
Department of Psychology: Michael Gordon and Natalie Obrecht
Department of Sociology: Deniz Yucel
Department of Biology: Jamie Weiss
Department of Chemistry: Mihaela Jitianu
Department of Kinesiology: Jason Wicke
Department of Nursing, Julia Fitzgerald and Elizabeth Van Dyk
I'd also like to welcome our 7 newest administrators:
Administration and Finance: Richard Stomber
Transfer & Special Sessions: Patrick Noonan
Institutional Advancement: Lisa Johnson and Elizabeth Fitzpatrick
Student Development: Triston Tosh.
Residence Life: Ali Abdul-Aziz and Ibrahim Noor.
We should also all congratulate the General Education Council, the Faculty Senate and others who have worked tirelessly to develop a new general education program. This marks the first major revision to the GE curriculum in 25 years. Many of you will be working hard to implement the new program and I thank you in advance for this. The program, coupled with the reduction in required credits from 128 to 120, will help us guide students to more timely graduation. Ed Weil, Sandy DeYoung, Julie Bliss, Kem Louie, and everyone else in the nursing faculty deserve our congratulations. This summer the University gained authorization to offer our first doctoral degree program – the doctor of nursing practice – the highest-level clinical degree in nursing. This new degree is a major achievement for the University. It will surely not be our last doctorate although we must give careful consideration to the commitment required for such degrees.
Our students come first so let me tell you about the new students we welcomed this week. The total number of new undergraduate students is 3,813 which is an 8% increase over last year. We have 1,619 freshmen, which is 5.3% more than last year. These freshmen continue the proud tradition of diversity at the University with 51% white, 22% Hispanic, 14% African American and 9% Asian. They arrive with higher high school GPAs and CSAT scores than previously. About 70% of the freshmen are regular admitted students with average CSAT scores of 1046, a 16 point increase from the prior year.
At the same time, we have admitted 1,304 transfer students, 12% higher than last year. We expect the number of transfer students to continue to grow over the next few years as our two year institutions throughout the State are inundated with students due to the recession. Our articulation agreements are in place, thanks to the leadership of Provost Weil, and we will continue to complete several more to enable students to move swiftly from 2 year to a 4 year institution and complete their education. At the same time, our articulation agreements clearly state the need for these students to be prepared for advanced baccalaureate work and we will continue our efforts with our colleagues at the 2 year institutions to make sure that happens.
Finally, our graduate population grows but the new class is smaller than last year and this is of concern to us. The decline is partially explained by the number of New Jersey teachers who remain uncertain about their jobs and their ability and need to acquire masters degrees in education. We are studying this trend very carefully as we do expect to increase our graduate enrollments in the years ahead and to branch out with new masters degrees in allied health, communications, business and the arts as well as selected other fields. Graduate degrees become more of a necessity in many professions and we live in a highly competitive labor market. We owe it to our students and our community to provide quality affordable graduate programs.
So please join me in welcoming this new group of students. And as a new president, I call upon the faculty to teach these students well and to be sure you demand of them excellence. We have a tremendous responsibility to educate these students, especially during difficult economic times. Therefore, now more than ever, we must encourage, excite, cajole, entice and demand that they work hard while they are with us so that they are as best prepared as possible for the challenges ahead.
This summer, we opened Science Hall West, the new 67,000-square foot addition to the Science Building. It will provide students and faculty with contemporary classrooms and research facilities worthy of the science needs of the 21st century. Many of you noticed the solar panels constructed over parts of the parking lots. Yes, those are solar panels, not car ports, and we now have the largest solar panel project at any university in the United States. We are receiving a great deal of publicity and I hope the installation of these panels will lead to a continued emphasis on sustainability, both in what we do and in what we teach. I realize many of you are waiting your turn for new facilities. Budgets will play a great part in that wait so let me say a few words about finances now and then later this term, we will have an open meeting about the fiscal health of the University.
We opened the fiscal year 2011 budget sustaining another round of state appropriation reductions, mandated salary increases without funds from the state and a legislatively, imposed cap on tuition and fees. These are tough times and I am sorry that collectively we have to go through this. Our general operating budget is now $150 million. As you know, we are legally required to produce a balanced budget. We made some difficult choices by selectively freezing vacant positions, monitoring and in many cases reducing non-salary expenditures and taking $ 3 million out of our reserves to cover the shortfall. Next year, we will not be relying on forced time off or furloughs unless Trenton tells us otherwise and we will honor our salary commitments although other institutions in this State may not be able to do so.
But we cannot keep drawing upon reserves nor do we want to raise tuition every year beyond what students can endure. They already are paying for most of their education and they pay some of the highest tuition rates at public institutions in the United States. We will have to seek additional revenue opportunities through continuing education, auxiliary enterprises, fund raising, special programs and research grants. Shortly, I will be announcing an all-campus meeting specifically to present the University's finances. I want the budget process to be more transparent and inclusive with greater participation from the campus. I have asked our finance people to compile a new process for 2012 and will shortly bring that before the Faculty Senate and its Budget Committee for suggestions. In these extraordinarily trying times, I believe we must all work together to ensure we are allocating our precious resources to best support our strategic choices.
As a new president, people ask me what my vision is and what my goals are. My vision is to lead a public institution that is committed to providing an excellent and affordable education to the people of New Jersey and which is known for developing new academic programs that lead to careers and professions that meet the ever changing needs of society. I received my undergraduate and graduate education at public institutions through the generosity of tax payers and the dedication of professors paid by them. I take our responsibilities toward current and future generations very personally.
I have already formulated four specific goals for my presidency and no doubt will add more as time passes. These four goals are, one, strategic planning: two, growing admissions while increasing retention; three increasing resources; and four enhancing our institutions visibility. Let me elaborate.
First, we will develop a 10 year strategic plan over the next 18 months which will be used to guide the University. We have an excellent academic plan, a student success plan, a facilities plan, an IT plan and other plans. But we do not have an overarching strategic plan and that is a problem. We need one! I will shortly announce the process by which together we will develop one. As many of you know, I have a background in strategic planning. It should be a highly inclusive process built upon goals and objectives that we will establish collectively. The Board of Trustees, faculty, staff, alumni and friends will be integral parts of the process. Together, we will chart our future. We will make tough choices. We will identify the need for new programs of excellence that will attract additional undergraduate and graduate students. We will build enrollment. We will raise more donations from alumni. We will study the recommendations from the Middle States self-study in preparation for our 10-year reaccreditation visit forthcoming this spring. The draft Self Study will shortly be available to all of you for your comments. And we'll accomplish our goals while navigating through the challenging budget environment.
This campus already engaged in some strategic planning and there may be some cynicism about beginning again. But we did not reach consensus on some key issues and we do not have a plan that we can all recognize. So it is important that we develop a plan for the university for the next ten years. We will not collate it and bind a thick plan and tuck it away forgotton on a shelf. We will use it to make fundamental and tactical decisions about our priorities and our resource allocations.
My second goal is to improve our enrollment management. We will grow enrollments. How much is still to be decided but it is not good for a university of our stature to not be growing. This year, our admissions people have done a good job but they want to do a better job and have asked for better guidance from us. They are right. But enrollment management is more than admissions. It also encompasses improving retention and graduation rates. Our undergraduate graduation rates are not good enough. They need to improve. I am asking you right now to help to make an effort to improve retention. Closer faculty student relationships are a known factor in helping students stay in school. You already do a lot. I am asking you to do more and to reach out to students. Please understand me – I am asking you to maintain your high academic standards but I also am asking you to personally engage these students. Next week you will see ads for as we begin a search for a new vice president of enrollment management. We hope we will complete the search as soon as possible. That individual will have responsibility for a wider range of activities than in the past and will be the critical office for improving retention and for growing undergraduate and graduate enrollments. I will ask some of you to join the search committee and work hard to bring us an experienced professional who will help move our University forward. Rest assured that faculty will continue to be critical in working with this individual and the Cabinet on admissions and retention policies.
The Third Goal – improving the resource base for our University. This is a very tough and complicated goal and one that I am still discussing with Steve and our financial people. We will have additional discussions about it later this fall so for now I will only address one part of increasing resources – fund raising. We generate about $3 million a year from friends and alumni and I am grateful to the Alumni Association and Foundation Board for all their contributions and hard work. As many of you keep reminding me, I have a reputation as a fundraiser and I actually like fund raising. Already, I see great potential for us to gain more support and have had the pleasure of meeting with our key supporters. But Sandra Deller and her team and I cannot do this alone. Fundraising is part art, part science, and entirely a team sport. For us to succeed, I believe that deans and faculty must play a role and we will be providing additional training in the art of fund raising. We need your help to identify alumni who are in a position to help. About 10% of our 55,000 alumni contribute to the University. This is pretty good as a percent but the dollars are still small. We need to do better. So after our strategic plan is completed, we will begin a new Capital Campaign focused on our priorities and hopefully tied to the timing of a national economic recovery. More to come on this goal.
Finally, we need to increase the visibility of William Paterson University. Everything that we do combines to affect the image of our institution. And everything has the potential to expand our visibility. Building visibility regionally and beyond and positioning the University properly are crucial to our future. Increasing our visibility will increase the number and quality of the faculty and students who want to work and study here. It will increase the number of alumni who will donate. It will increase the numbers and amounts of grants from public and private sources of funds.
But visibility means different things to different people. For some it means reading and hearing about the University, its faculty and students in the media. For others, it's about rankings, such as U.S. News and World Report. For some, it's about advertising, or word-of-mouth recognition for faculty and student achievements. For me, it is all of the above. Everyone here in the room can positively or negatively affect the reputation and visibility of this University. How you speak about William Paterson in your classes, in your communities and around the campus create an image of the University. Do you have our bumper sticker on your car? Do you always proudly identify yourself as a member of the William Paterson community? Do you promote the university to your friends and relatives when they look to study at an institution of higher education? Do you brag about the many wonderful accomplishments of our students? Do you bring people to our beautiful campus?
We do have a formal visibility campaign and our metrics indicate progress in building the awareness that leads to enrollment increases. We are using new media now to enhance our image – 21st century style. We will build additional parts to our plan for visibility and include support for your academic conferences and performances here on campus while at the same time enhancing the accomplishments of our faculty.
I personally intend to be very visible in New Jersey and be a voice for higher education. I fully understand my responsibilities as the spokesperson for this University and am seeking opportunities to speak around the state. In the past 4 weeks, I have had the pleasure to address the downtown Paterson Alliance, the American Muslim Union and a regional business council. The press provided good coverage about my arrival and you can read these articles on my home page. I already have had breakfast with the Governor and dinner with Congressman Pascrell as well as meeting local mayors and elected officials. Tomorrow, I will have a private dinner with Senator Lautenberg.
These are lofty and ambitious goals. I think I have the right ones but you will tell me if I need other ones.
In conclusion, as a historian, I can't help but think that my path to William Paterson and its roots in the city of Paterson must be somehow pre-ordained. I discovered recently my great grandparents on my father's side are from Paterson. I just found a marriage certificate from the 19th century which shows that my Irish great grandparents got married in a church in downtown Paterson. I plan to dig a bit deeper to learn more about my family's years in the city.
One of the main reasons that I left the corporate world to return to higher education is because I love students and love the energy of that age group. I love their desire to venture out intellectually with enthusiasm and optimism and their eagerness to reach toward their full potential. The students motivate me.
As dedicated educators, I think most of you feel the same way. While our responsibilities are to teach, inspire, support and prepare our students for the world that awaits them, we gain our inspiration and invigoration from the students.
I'm proud to be part of this community of learners, teachers, scholars and artists. With a strong sense of commitment and eager anticipation for all that we can accomplish together, I look forward to working with you to take this great institution to the next level.
I wish you a wonderful, creative and satisfying semester. I look forward to meeting you individually and in smaller groups as I make my rounds throughout the campus in the next few months.