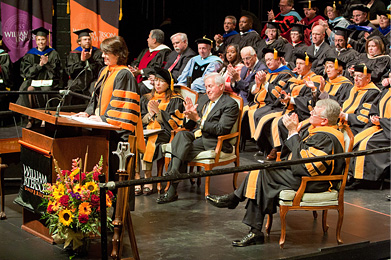 Click here to view slideshow of photos

Today we mark new beginnings by gathering in solidarity and friendship. We celebrate our university and its creativity and we commit ourselves to the next chapter of its distinguished history. You the audience signify by your presence here today a pledge of support to William Paterson University and its mission. The academic procession and the traditions and rituals surrounding presidential investitures have meaning and they remind us of the responsibility granted to a president and the honor of the appointment. The rituals affirm the historic role of universities as centers of learning and beacons of opportunity, even at times in history when all other lights were dimmed or turned off. Thank you for coming today.
I want to thank the members of the Board of Trustees of William Paterson University for their support of this fine institution and for their careful advice and suggestions since selecting me as president. Wise men and women, they are passionate about this institution and devoted to the students we serve. I want to thank the Alumni Executive Council and the Foundation Trustees for their presence and support today. These individuals give so generously of their time and resources. To the faculty, staff and students who, since August, have emailed me, sent flowers, cookies, sweatshirts, books and tons of advice and good wishes, I thank you. I know you care deeply about the academic life of this institution. And I want to especially recognize my predecessor, Dr. Arnie Speert. For 25 years Arnie presided over and transformed this institution. I am grateful to him and for being so generous during the transition process. Thank you Arnie.
Welcome Congressman Bill Pascrell, a good friend of this institution for many years. Congressman, I've enjoyed getting to know you during these past few months and look forward to working with you.
I wish to acknowledge the presence of all my fellow college and university presidents. Thank you for being here today. And I am so pleased to see colleagues from Baruch College of the City University of New York, friends from Long Island University, my former fellow bankers from Citibank and my friends from Accion International and The Tinker Foundation. I am honored and moved by your presence. And finally - to my family thank you for joining me today.
Many of you know I devoted a large part of my life to Latin America both as an academic and as a business woman. My youthful travels in that part of the world by bus, hiking the Inca trail, and studying in Venezuela shaped my perspective about social equality and confirmed my deep belief in the need for an informed, educated population to make democracies prevail. When I first started traveling to Latin America, many of the countries were just emerging from military dictatorships. There was little freedom of the press or in fact any independent journalistic tradition. Universities had been closed or heavily censured, professors jailed, students arrested. People had reached well into adulthood without ever experiencing the opportunity to vote in an election. And the gap between rich and poor was overwhelming. Much has changed now but these early experiences formed the philosophic basis for who I am today.
At that time as a young graduate student a professor asked me to read Pedagogy of the Oppressed by the Brazilian sociologist, Paulo Freire, who became one of the most influential and important educators of the 20th century. This year we celebrate the fortieth anniversary of the English translation of that seminal work which still holds many lessons for today and still influences my thinking about teaching.
Paulo Freire's basic theme was that education can be a personally and politically empowering activity that encourages and sustains the individual and promotes the development of democracy. By working with the disenfranchised - the oppressed - he developed a theory of pedagogy which replaced the teacher centered classroom with the idea of an interactive teacher-student experience where both learned from one another. Novel at the time, but today accepted throughout the academy.
Paulo Freire believed, and I came to believe, that if you give students an opportunity to pose the problems and to engage in a "culture of questioning" in the classroom, then you can change the traditional structure of teachers imparting knowledge to students. Instead one can allow students to alter the classroom relations and take control of the modes of authority and knowledge and even identity. Knowledge then is no longer simply received by students but transformed as they learn how to engage in critical dialogue and to be held accountable for their own views and thought processes. If we believe education has a social good beyond the individual's enrichment, then education must be part of a process that provides knowledge and skills and develops social relations so that individuals more fully participate in society and in the promise of democracy. If we believe that education transforms the individual and therefore society, then education must be inquisitive, challenging and autonomous.
I cite the example of Paulo Freire because I believe that at the present time in the United States, our universities are increasingly defined by a corporate perspective which, from my own background, I know so well. We hear more about the demand for universities to contribute to the economic development of the nation and to provide skills and credentials to build a work force that will enable the United States to compete globally. We hear about accountability, and efficiencies and definitions of student success tied to passing standardized exams. We listen to voices that question whether public expenditure for higher education is necessary or even the obligation of the citizenry.
While it is fair to ask these questions, it is also fair, no essential, to ask that universities remain free and open to new fields of knowledge and inquiry, that universities be allowed to try and sometimes even fail at new thinking and pedagogic experimentation, and that universities be viewed as essential to the development and perfection of a democratic process. Therefore, universities must remain affordable and accessible to all sectors of the population, regardless of family wealth or place of origin. As our independent journalistic tradition in this country is challenged, as we see a decline in voter participation, as political discourse deteriorates into personalities rather than issues and as we receive more peoples from countries lacking democratic heritages, we need to rely more heavily on the educational process for the preservation of our participatory democracy.
But our society is moving away from its belief that we should provide an opportunity for all young people who are desirous and capable of pursuing a college degree. We note the decade long decline in funding for public institutions of higher education and the proportionate increase in the cost of tuition that students or their families are expected to absorb.
Over the past decade, tuition rose 47 percent at public, four-year colleges and 42 percent at their private counterparts. At the same time, state appropriations for higher education have declined substantially. You know that in New Jersey, public tuition costs are among the highest in the nation. With the burden of jobs, the children of the working class who dream of a college education are finding that getting that education becomes more a test of their endurance than their intelligence.
If William Paterson, our namesake, were alive today, it is doubtful that he would have graduated college given his modest family origins.
So our challenge today is to confront this situation and to reaffirm our belief and support for public higher education. Our challenge is to continue to provide an opportunity for all members of society, understanding that the goal is not just a better economic opportunity for the individual but the preservation of our political democracy. At William Paterson, we will ask administrators and faculty to utilize resources more wisely and carefully consider the choices to be made. We will develop a strategic vision that remains true to our original mission and yet meets the needs of a complex citizenry and challenging economic times.
So let me outline some very specific goals for the next few years.
First and foremost, we must continue to recruit and retain outstanding faculty. Our enrollment increases over the past couple of years have not been matched by increases in faculty. There is a tipping point where insufficient classes hinder the educational process and delay student graduation. Our students deserve more and so we will continue to hire excellent faculty. This fall 22 new professors joined our ranks and next fall we expect to recruit for another 25 positions. Ten percent of our faculty will be new in two years and that presents exciting possibilities. Over the next few years, we will increase the number of faculty in critical and strategic areas but this will not be business as usual. We need to identify those areas of strategic importance so that new professors will impact more than one department and their work will bring together students and faculty across disciplines in innovative programs in the sciences, education, business, humanities and the arts. Not every department will grow but every department, every student and every member of the faculty and staff will benefit.
Second, we must prepare for continued enrollment growth both at the undergraduate and graduate levels. The large number of students at the two year institutions promises a swelling of enrollment at William Paterson University. This year alone, we had a seven percent increase in our student body. Given the demographic increase of people of college age in the area, we can expect a wave of applicants in the near future. Many of these students will be the first in their families to go to college. They will come from families without a tradition of higher education and many without a tradition of democratic values in their countries of origin. We have to be prepared for that.
And we can expect the demand for graduate programs to grow –professions are more complex today and institutions and businesses are seeking more individuals with post baccalaureate degrees. Affordable graduate education is a promise we make to the people of New Jersey and beyond.
Third, we will develop new and creative academic programs that fit the 21st century. While believing firmly in the values of a liberal arts education and the need to embrace critical education for the preservation of our democracy, we recognize the changing social and economic nature of our society and must remain agile and ready to change too. We will critically evaluate our curriculum to ensure that it is vibrant, creative and technologically adapted to the 21st century. We will be thoughtful about this. We will not develop new programs just because we want to teach them. We will be analytical in our selection and ensure that the right investment is made so that the programs are of the very highest quality.
Fourth, if we increase the number of our faculty, and our student population, we must invest in our student development and infrastructure. William Paterson University today has nationally ranked student support programs in counseling, and in student development but we need to make additional investments in our academic support, our career services, our advisement services and student life. We will continue to improve our physical infrastructure. Today, many of you will take a tour of our new $85 million Science Building opened this past summer. A state of the art academic and laboratory building, it is dedicated to chemistry, physics, biology and environmental sciences. And you will join me for lunch in the University Commons, a $50 Million building opened in 2007. Some of you will tour our solar panel installation, the largest solar panel project at any university in the country and the third largest installation in the Northeast. With our commitment to the environment, we will produce 15 percent of our own energy needs while substantially cutting fossil based energy costs.
But we cannot stop there. We have some buildings in desperate need of renovation and modernization – the Atrium, Hunziker Hall and Wing, Raubinger Hall and Shea are filled with loving memories for countless generations of alum but they are overworked buildings. We will remodel and build new multi-purpose facilities that are practical but not over the top - buildings that will serve the core needs of our institution. We hope that funds for capital projects might be forthcoming from the State but if not, we are prepared to go ahead ….and the recent reconfirmation of our bond ratings is an affirmation of our ability to do so. And of course, many of you have asked, and I have agreed that we will build a multi-level parking facility to ensure that our many commuting students spend less time hunting for a spot.
Finally, let me thank many of you who already support the University so generously. Your contributions to our scholarship fund and academic support fund make a huge difference in the quality of education we offer. I especially want to thank the donors who have contributed over $1 million dollars in new gifts since I began at the University in August. I thank you for this generosity and hope you will continue to contribute.
In conclusion, I stand before you today proud and humbled to be the seventh president of William Paterson University. We stand for what is best about public universities. We are a home for research and innovation, a place for learning and scholarship, a center for creative arts and music, a pathway for social mobility for diverse students, and a partner with our communities. We will continue to achieve excellence by working together. My thanks to you all.