&
Achieving Campus Wellness Through the Classroom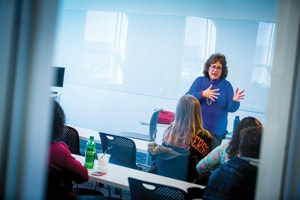 Jean Levitan
To be truly healthy is to be more than healthy in a physical sense; it is to be healthy in a comprehensive sense—psychologically, socially, spiritually, intellectually, and environmentally. But building and maintaining the various dimensions of health, particularly for busy college students, can be a challenge. Enter Healthy U, a course in the Department of Public Health that helps students navigate their paths to wellbeing.
Healthy U covers such topics as self-esteem, sexuality, addiction, weight management, and fitness, and fulfills one of the requirements in the University Core Curriculum (UCC), the general education program at William Paterson. Of the UCC's six required areas, Healthy U is offered as an option in Area 1, "Personal Wellbeing."
And, the course is definitely personal.
Each student must take an online wellness assessment at the start of the semester. The assessment rates students' health behaviors, showing them what they are doing well and where they could improve. They then choose one behavior to work on for their Behavior Change Project. Students set goals, keep diaries, and analyze what helps them or keeps them from succeeding, aiming to end the project with new behaviors incorporated into their lifestyles.
Jean Levitan, longtime professor of public health, has taught the course extensively over the years. A common choice for students' Behavior Change Project as of late, she says, has been to eat better. Students often keep a food log to help them track their intake.
"Sometimes it's about correcting a lot of misinformation, such as breakfast bars and smoothies being the way to go," Levitan explains. "People truly can and should eat more 'real' food, but we have a lot of students who are eating on the run."
Another common choice for the Behavior Change Project lately, and one that was certainly not seen with as much frequency several years ago, is the desire to better handle anxiety and stress.
"I don't remember as much anxiety and stress in my students in the '70s and '80s—anxiety and stress are much more a part of their lives," Levitan says. For such students in Healthy U, Levitan focuses on stress management and the many counseling and support services available to students on campus and off.
While the number of Healthy U students trying to change behaviors relative to stress has increased through the decades, Levitan is happy to report that the pool of students with tobacco addictions has decreased.
On the other hand, alcohol use and abuse hasn't changed much, she says, and neither have students' challenges with dating and forming healthy relationships. "For some of them, you really have to break down how you get to know people and make friends," Levitan says.
Inspired by Healthy U, several years ago, Levitan developed a sister course titled Healthy Living After 30, which addresses wellness in a way that is more attractive to the older student. It, too, is offered as an option to fulfill the UCC Area 1 requirement. Whereas a Healthy U section on healthy relationships may focus on dating from an age-appropriate perspective, one in Healthy Living After 30 may also cover divorce, she explains.
"Public health is an academic discipline, but in the overall core curriculum, this is where we clearly focus on how a student is managing his/her life," Levitan says of both courses. "We are directly applying the information and the research to the behavior."