&
Alumni Use 3D Sculpting Skills to Jumpstart Careers
Adam Nowicki '11 and Alex Vicenzi '12 Started Their Own Company
Alumni Adam Nowicki '11 and Alex Vicenzi '12 and moved to Brooklyn, New York, each with their own clients, and in January 2013 they merged efforts and established Youngbuk Art Services, LLC, a fabrication and art installation company.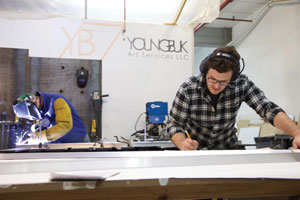 Adam Nowicki '11 and Alex Vicenzi '12 in their studio
Youngbuk Art Services works with artists, designers, galleries, and interior designers, with projects ranging from window displays for Barneys New York to creating pedestals for the Museum of Art and Design. Clients go to them with a design and Youngbuk facilitates its production. They work in wood and metal, and have taken on a wide variety of projects, explains Nowicki. "This past year, business is booming. We like making things and solving problems."
Brian Sandilands, MFA '15, Is Restoring Historic Artworks
Brian Sandilands '15 is the CNC (Computer Numerical Control) production manager for Marmiro Stones, where one of his projects is restoring a monument for Rutgers University. For the past several years, Sandilands has been 3D scanning the famous works of the Paterson sculptor Gaetano Federici to recreate some of the plaster models that Federici used to develop his later works. Since 2010, Sandilands has also volunteered his time to help with restoration work at the American Labor Museum, Botto House.

"The Center for New Art provided me with the freedom, facilities, and research to be a player in local industry and art making," says Sandilands. "I owe a great deal of my experience to Michael Rees and the Center. It is truly one of the best resources available for artists working with technology."
Sean Tulner '14 Continues Making Magic for Macy's Parade Studio
Sean Tulner '14 is a sculptor, moldmaker, and float technician for the Macy's Parade Studio, a year-round studio job where dozens of balloons and floats are made each year for the Thanksgiving Day parade and other events. His work can be seen in the design elements for many balloons, including Scrat, a character from the popular Ice Age films, and a 30-foot tall-balloon of Sponge Bob Squarepants that sat atop the Macy's marquee.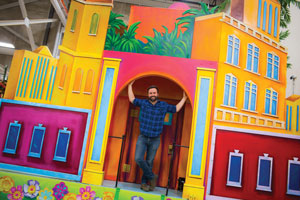 Sean Tulner '14 on a float in the Macy's Parade Studio
Tulner has worked on events like the Universal Studio's Macy's Holiday Parade in Orlando, Florida; the Macy's Flower Show at the Herald Square flagship store in New York, and on decorating the barges that launch the Macy's Fourth of July fireworks show. The 2015 Thanksgiving Day parade was his first as a float crew captain, where he led a crew of eight in the assembly and disassembly of four floats. He is working on the 2016 flower show as well as starting on projects for this year's 90th anniversary parade.

Tulner is encouraging the Macy's Parade Studio to upgrade to the new generation of technology. "For now, most work is hand sculpted or crafted by hand," he says. "As a sculptor and moldmaker, creating characters and landscapes for floats and balloons can easily be enhanced using the techniques that I learned in the Center for New Art under Professor Michael Rees. Within the next couple of years, I hope to help us move in that direction of innovation."