&
Students Take Advantage of National Park Service Opportunities
Danielle Nichols '15 originally came to William Paterson as an art history major, but after taking an environmental science course her freshman year to fulfill a science requirement, she realized she had found her passion. "I just fell in love with the subject," she says.
Encouraged by the faculty, Nichols became involved in the department's partnership with the Paterson Great Falls National Historical Park helping to develop curriculum for local students and visitors. "This is an important collaboration for our students because the time students spend on the project is considered as time working for the National Park Service (NPS), which provides them with a leg up when seeking internships or employment," explains Nicole Davi, assistant professor of environmental science.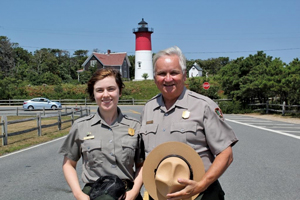 Danielle Nichols '15 with George Price '73,
superintendent of Cape Cod National Seashore
Nichols used her experience as a springboard to apply for additional NPS opportunities. She was accepted to participate in the Student Conservation Corps National Park Service Academy New York Harbor Orientation, an internship program designed to foster diversity within the NPS. The program led to a summer 2014 internship conducting cave tours at Wind Cave National Park in South Dakota. This past summer, Nichols worked as a visitor use assistant at Cape Cod National Seashore in Massachusetts. Nichols, who is currently taking a year to teach English in Japan, plans to study environmental law and then pursue a career in the Park Service.
Three other William Paterson students were able to land Park Service positions this past summer. Evan Gerry '15, who interned at Great Smoky Mountain National Park in 2014, interned as a trail crew member at Grand Teton National Park in Wyoming. Aimee Aquino '16 was a biological intern at Cape Lookout National Seashore, while Jessica Geary '17 served as an interpretive ranger at Jewel Cave National Monument in South Dakota.