&
A Commitment to Being Green
William Paterson's dedication to sustainability, which extends back more than a decade, was reaffirmed as part of the University's Strategic Plan 2012-22, which noted the institution's determination to become a "green" campus by substantially increasing recycling and energy efficiency programs.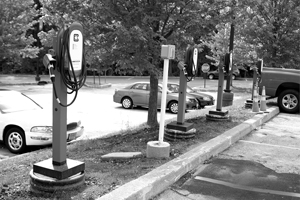 The electric car charging stations in Lot 4
The University's "Green Team," comprised of a group of concerned faculty, administrators, staff, and students, continues to make recommendations that are charting the direction for ongoing sustainability efforts. Recent energy conservation initiatives include the installation of filtered water fountains in the University Commons and the residence halls for students who wish to fill water bottles, leading to less use of plastic water bottles. The University is also working to reduce the use of non-recyclable items, including sending food waste out for composting instead of discarding it as trash.
The Pioneer Parking Garage, which opened in September 2014, garnered a Green Design Award from the Passaic County Board of Chosen Freeholders for its energy-efficient LED lighting technology. Similarly, University Hall, the new academic building currently under construction, is being designed for efficiency, and will include a "green roof" that will be planted with grass. The University plans to seek LEED Gold certification from the U.S. Green Building Council once the building is completed.
Five charging stations for electric vehicles are now available in Parking Lot 4 through a program administered by Public Service Electric & Gas. The charging stations provide free electricity in these dedicated parking spaces for electric vehicles operated by University faculty, staff, and students.
The University continues to pursue opportunities to enlarge its nationally recognized solar panel installation by expanding to additional locations on suitable building roofs on campus. The installation continues to rank as one of the 10 largest on the campus of a four-year college or university in the United States.