William Paterson University to Host "Night on Mars," a Celebration of NASA's "Curiosity" Landing, on Sunday, August 5 from 6 p.m. to 2 a.m.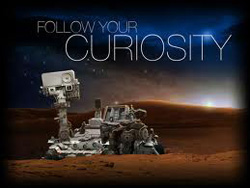 --Free event includes fun activities and live coverage of NASA landing at 1:30 a.m.
--Open to the public and children over 12; free NASA posters and giveaways
Is there life on Mars? Come to William Paterson University and celebrate when the Mars Science Laboratory, Curiosity, will land on Mars at 1:30 a.m. EST on August 6, 2012. The public is invited to "Night on Mars: Curiosity Landing Party" at William Paterson University on August 5, from 6 p.m. to 2 a.m. at Science Hall East 2064. Admission is free.
Families and children over 12 are invited to join us for this fun, educational event. Jason Kendall, NASA/JPL Solar System Ambassador for New York City, and an astronomy instructor at William Paterson, will give a talk about the search for life on Mars. The event will also include fun, hands-on activities, such as building Mars landers, walking through a human orrery, looking through spectroscopes, and stargazing with the University's telescopes.
As the evening goes on, children may watch "Roving Mars," the iMax movie about the little Mars rovers that could, and just before the live NASA coverage, they'll see the 1953 movie, "War of the Worlds." Pizza will be served.
Visitors are invited to park in Lot 2, which can be accessed via Entry 1 off of Pompton Road, and walk to the Science Hall East building. For directions, please go to http://www.wpunj.edu/maps.
For more information, contact J. Kendall KendallJ@wpunj.edu (212-610-3583) or S.H. Chung at ChungS@wpunj.edu.
Schedule of Events:
6:00 p.m.: Greeting and NASA News Conference Broadcast Live.
7:00 p.m.: Public talk on Mars Exploration and the Search for Life with Curiosity by Jason Kendall.
8:00 p.m.: Performance of the official song of the International Year of Astronomy, Up Up Up in the Sky by award-winning composer Donna Stearns. Sung by Megan Marod.
8:05 p.m.: Andrew Kessler, author of Martian Summer: Robot Arms, Space Cowboys, and My 90 Days with the Phoenix Mars Mission, will chat about his experiences and be on hand for signing.
8:30 - 9:30 p.m.: Activities for adults and kids. Stargazing on the football field if weather permits. Telescopes will be provided and amateur astronomers may bring equipment. Physics demonstrations and hands-on activities suitable for kids and adults.
9:40 p.m.: Public showing of Roving Mars, the story of Spirit and Opportunity.
10:30 p.m.: Public showing of War of the Worlds 1953 version. (90 mins)
Midnight: Begin NASA coverage begins the EDL.
1:30 a.m.: Time of Entry, Descent and Landing, covered LIVE!
2:15 a.m.: NASA Post-Landing Press conference: LIVE.


07/30/12