William Paterson University Communication Professor Loretta McLaughlin-Vignier Wins International Award for Television Show, The Roundabout
McLaughlin-Vignierhas won a Bronze International CINDY Award for her role as executive producer and faculty advisor of The Roundabout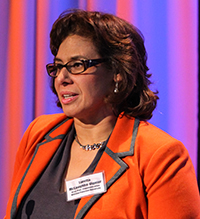 Loretta McLaughlin-Vignier
Loretta McLaughlin-Vignier, assistant professor of communication at William Paterson University, has won a Bronze International CINDY Award for her role as executive producer and faculty advisor of The Roundabout, a University-produced television talk show she developed to give college women a voice while promoting positive images of women in the media. The award is presented by International Association of Audio Visual Communicators, an organization that honors the theatrical, broadcast, non-broadcast and interactive media professionals around the globe.
"I am thrilled to have created a television program that focuses on female college students and what is important to them," says McLaughlin-Vignier. "And, to be recognized by my peers is icing on the cake. The ultimate goal is to see more shows like this produced at colleges and universities across the country."
The show previously won a Silver Regional CINDY Award last fall, and advanced to the international competition. The Roundabout also received a Bronze Telly Award in the non-broadcast education category of the 34th annual Telly Awards announced earlier last year. The awards honor outstanding local, regional and cable TV commercials and programs, videos and film production and online media. In addition, Caity Arthur '13, one of the four original student hosts, won a 2013 Gracie Award, presented by the Alliance for Women in Media Foundation, for "Outstanding Host – Entertainment/Information, Television-Student Market." She was one of 11 student winners, and the only winner from New Jersey.
Modeled after ABC-TV's The View, The Roundabout debuted on campus in fall 2012. Taped in front of a live studio audience, the show includes segments that address a healthy lifestyle, as well as interviews with successful women, particularly University faculty, staff, and alumni.
02/20/14