Graduates Succeed in Today's Challenging Job Market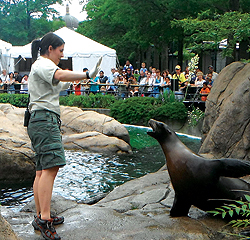 Liana Kabrel '11
By Theresa E. Ross '80

Liana Kabrel has an unusual job. After graduating from William Paterson in 2011, she was hired as a "wild animal keeper" at the Bronx Zoo in New York City. Kabrel works with gorillas and trains sea lions to perform for the public.

"It's all the result of the training she received during an internship at Miami Seaquarium, when she was an undergraduate biology major," says Lance Risley, professor and chair of the biology department. Finding a job in today's market can be tough. Nearly every day, the latest unemployment rates and changing job market make news headlines. It can be especially daunting for college graduates looking for their first professional position.

"It doesn't mean there aren't jobs out there, it means that graduates have to be a little more creative about how they're going to find a job," explains Victoria Nauta, associate director of the University's Career Development and Gloria S. Williams Advisement Center.

Nauta tells students to obtain internships and part-time jobs in their chosen fields. "Start early—as early as sophomore year," she advises. "It's a great way to get your foot in the door. Students who have an internship on their resume are always more marketable."

Remarkably, nearly 90 percent of students who took part in internships accepted the offer of a job from their internship employer, according to a survey by the National Association of College and Employers (NACE) 2012 Job Outlook.

That's how Matt Ward, who graduated in 2009 with a degree in communication, cum laude, fast-tracked his career. In 2008, he held a summer internship at a global financial services and life insurance firm in New York City. During senior year, his internship became a part-time job. In addition, at William Paterson, he served as president of the Student Public Relations Association and sports editor of the Pioneer Times.

"I kept myself busy in college and took advantage of experiences that helped me develop leadership and networking skills," says Ward. Upon graduation, he was selected from more than two hundred applicants for a job in the public relations department of Weichert Realtors. After working there nearly two years, Ward landed his current position as media relations associate at the Federal Reserve Bank of New York.

Students who are offered jobs at graduation may also be fortunate because they chose a major that is in demand right now, or have bilingual skills that give them an edge. But for the most part, standing out as a "go-getter" and having real-life experience are the keys to success.

Since 2009, students in the University's financial planning program in the Cotsakos College of Business* have been creating a positive buzz by winning top awards in the National Financial Planning Association's (FPA) annual challenge. Students like Nicholas Scheibner '11, who cofounded the very first student chapter of the FPA on William Paterson's campus, have earned their pick of jobs from top firms upon graduation. Scheibner, whose team won first place in the 2010 FPA contest, is currently a financial planner for Baron Financial Group in Fair Lawn.

For Cindy Mota '12, another graduate of the program, becoming a financial planner took hard work, sacrifice, and dedication. Mota, born in the Dominican Republic, was the first in her family to attend college. She was one of several William Paterson graduates interviewed for a June 25, 2012 cover story in The Hispanic Outlook in Higher Education about the high demand for Hispanic financial planning majors. Upon graduation, Mota was hired as a high net worth ($1 million) client service specialist for Vanguard, the largest mutual fund company in the United States.

"About 80 percent of positions are found through the 'hidden job market,' which includes meeting people in a chosen field and obtaining jobs through websites like LinkedIn," says Nauta. It's not unusual, she notes, for students to receive job offers directly from employers through their LinkedIn accounts. She reminds students to join alumni Facebook and LinkedIn pages too, because fellow alumni can also be helpful resources. Through networking, social networking, writing blogs, and creating their own websites, many students are forging their own opportunities.

When alumnus Patrick Boyle and his friend Megan Dermody from Susquehanna University, both English majors, graduated in 2011 without serious writing portfolios, they spent the better part of that summer applying for jobs and not finding work.

Sitting in his backyard one summer night, Boyle suggested to his friends (Dermody, and fellow William Paterson graduates Dhruvin Dave '11 and Nadia Nieves '11) that they start their own magazine. By October, they launched Lamplighter, an online alternative music and culture magazine. Two months later, writing five articles a week on top of part-time jobs became too much work to maintain. "I suggested that we switch to a print quarterly magazine, which would allow us to bring on more writers and photographers and give us new exposure," says Boyle. The editors launched a two-week fundraising campaign on Idiegogo.com and broke their $2,000 goal in less than seven days. They printed two issues and are working on their third.

"We haven't made a profit yet—everyone has essentially volunteered their time and effort—but we break even, which keeps us afloat," says Boyle. "From this whole experience, I learned a lot about writing for deadlines, managing and communicating with staff, and experienced the real struggle of print media." So what does this mean for Boyle's future? "Honestly, I'm a poet, working Megantoward an M.F.A. at Bennington College. So until writing poetry can pay bills, Lamplighter is my outlet," he says. "It might explode into a huge publication, or it might springboard me into a greater writing opportunity. Whichever happens, I'll be happy knowing I did it for myself."

The good news for college graduates is that it pays to have a degree. And the need is projected to be ever increasing. For the coming year, employers responding to the NACE 2012 survey say they expect to hire 10.2 percent more new college graduates than they did in 2011. So job prospects appear to be looking up, says Nauta.

College graduates consistently earn more too, according to the latest report from the Georgetown University Center on Education and the Workforce, among other sources. And in some cases, working toward an advanced degree can be essential.

"Visiting our office, the Career Development and Gloria S. Williams Advisement Center, is important," says Nauta. "We meet with students and walk them through the entire job search process. We tell them what websites they should be looking at, and make sure they have an account on WP Job Connect, our campus database of job postings, internships, and employers."

Long before graduation, Nauta urges students to speak with the Center's career counselors and get help with resume writing, interviewing, networking, and other job searching skills. Students should also take advantage of events like the Center's Career Fair, where employers offer jobs and internships.

Finally, when all else is done, she tells graduates to be persistent. "Five applications will not get you a job. Five hundred might get you a job. It comes down to being persistent and patient. WP

*The University's Financial Planning Program in the Cotsakos College of Business was named one of the top ten programs in the U.S. by Financial Planning Magazine, November 1, 2011.

11/30/12