William Paterson to Present "The Magic Flute," the Music Department's First Complete Opera Featuring a Cast of More Than 40 People, on April 27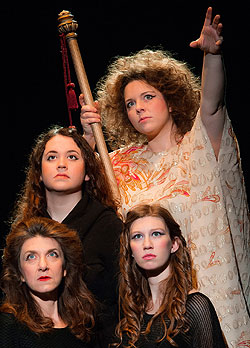 The William Paterson University Department of Music will present Mozart's opera, "The Magic Flute," on Saturday, April 27, 2013, at 8 p.m. in the University's Shea Center for Performing Arts.
Tickets are $15 general, $10 seniors and students and free for William Paterson students with valid ID.
"The Magic Flute" will be performed in English with a running time of under two hours. The opera tells the tale of the controlling Queen of the Night and her retinue who engage the head of temple and his entourage in a battle of wits over two lovers. Prince Tamino, aided by Papageno and a magic flute, attempts to rescue his love, Princess Pamina. The opera's mixture of quirky characters, surreal magic, love gone crazy and entrancing music will make for an enchanting and unforgettable performance.
"The Magic Flute" will be the first complete opera produced by the William Paterson University Department of Music. Stephen Bryant, professor of music, is the producer and music director, and Phillip Sprayberry, adjunct professor, is the stage director. The opera will feature a cast of more than 40 people accompanied by the William Paterson student orchestra. "We have staged scenes from a variety of operas over the past two decades, and this performance provides an enhanced opportunity for our student vocalists and instrumentalists to participate in a major production that fully displays their talents as well as to perform side by side with professional vocalists," says Bryant.
Portraying the principal role of Tamino is José F. Martinez, a senior majoring in music; his love interest, Pamina, will be played by senior music major Christina Nicastro. Rounding out the major roles are professional vocalists John-Andrew Fernandez as Papageno, Joseph McKee as Sarastro, and Halley Gilbert as the Queen of the Night. Other performers include Brenda Belahoubek '12 as First Lady, Lori Frederics '88 as Second Lady, Libby Honan as Third Lady, Frederick Voegele '07 as Monastatos, and students Ashley Overa as Papagena, Hilliary McCrink as First Spirit, Rebecca Morris as Second Spirit, Meagan McCarroll as Third Spirit, and Michael Kern, and Michael Russo as the Priests.
For additional information or to purchase tickets, please contact William Paterson University's Shea Center Box Office at boxoffice@wpunj.edu, call 973.720.2371 or visit www.wp-presents.org
04/09/13