Students Anthony Ferraiolo and Brian Potoczak, Creators of Brainify – On Demand Learning, Win Top Prize in William Paterson University's 2017 Business Concept Competition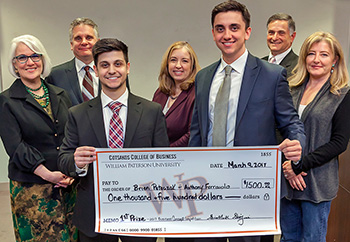 From Left, Liz Weinmann, Chip Ohlsson, Anthony Ferraiolo, Maria Rollins, Brian Potoczak, Anthony Pessolano, and Raida Samman
Students Anthony Ferraiolo and Brian Potoczak, the creators of Brainify, a mobile app learning tool that sends users pop-up questions about a chosen subject throughout the day, won first prize in William Paterson University's sixth annual Business Concept Competition announced on Wednesday, March 9, 2017.
"We are grateful to the faculty, staff and judges who continuously promote a spirit of entrepreneurship among our students," says Siamack Shojai, dean of the Cotsakos College of Business. "I congratulate the students who participated in the competition for making us proud."
Brainify is a concept for a mobile app that would allow users to contribute information to an open source database and set a specific subject they want to learn. Alerts will pop up on a smart phone throughout the day -- either as multiple choice or fill-in-the-blank questions. Students could quiz friends, set goals and track their progress, while doing an extra 30 minutes of studying per day, say its creators.
The creators of Brainifly won the top prize award of $1,500. Other student winners included Luke Getto, who won the $900 second prize for his business called Designed Better, featuring a line of interactive networked smart toys for children. Designed Better also won the Student Viewers Award Choice. In third place, Michael Bussanich won the $600 prize for his business Third Arm Co., a bracing device for plumbers and other workers who sometimes need more than two hands. Catherine Horvath, whose concept was The Comic Shoppe & Café, an upscale comic bookstore and café in northern Bergen County, was also among the four finalists.
Ferraiolo and Potoczak, the top winning team, will go on to compete at U-Pitch NJ (New Jersey's Collegiate Business Model Competition), representing William Paterson, on April 28, 2017 at Princeton University.
The Business Concept Competition is open to all undergraduate and graduate students in any major at William Paterson, and was held in the University's 1600 Valley Road Auditorium, where finalists presented an outline of their business plan. Presentations included a description of the product or service, cash flow and break-even points, marketing and advertising plans, and target market. Bahar Ashnai, assistant professor, Cotsakos College of Business, and Kate Muldoon, regional director of the William Paterson University Small Business Development Center, served as coordinators of the event.
Finalist round judges for the event included:
Carl "Chip" Ohlsson '90, executive vice presient and chief development officer, Wyndham Hotel Group and owner, Five Guys Burgers & Fries and Urban Fire
Anthony Pessolano '80, president and CEO, AH Consulting Services and owner, Ocean Holding LLC
Maria Rollins '91 CPA, founding and managing partner, Kreinces, Rollins & Shanker CPAs
Raida Samman '94, co-founder, Faraj Inc.
Elizabeth "Liz" Weinmann, managing partner, BEAM-Impact Group and Cotsakos College of Business Advisory and Advancement Board Member
William Paterson University's 2017 Business Concept Competition is sponsored by the University's Cotsakos College of Business MBA Program in Entrepreneurship. View more photos of the event on Facebook.
03/20/17