William Paterson Student Wins Three Awards in 2012 National Sales Challenge
Peter Malvasi wins three individual awards competing against students from across the country and abroad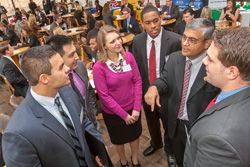 Professor P.K. Kothandaraman (second from right) with William Paterson students (left to right) Andrew Mazzella, Edgar Rodriguez, Annamaria Havrillova, Denzel Bland, and Peter Malvasi
Competing against students from 32 universities from 21 states, Scotland, and the Netherlands over a three-day period, William Paterson University student Peter Malvasi won three individual awards during the 2012 National Sales Challenge held on campus from November 14 to 16.
The event, now in its sixth year and one of the few such competitions in the country, is comprised of an intense series of selling competitions and workshops hosted by the Russ Berrie Institute for Professional Sales at the University's Cotsakos College of Business. Malvasi placed second overall in individual competition, as well as fifth in the speed selling competition, and fourth in the role-play competition. A team from Elon University took first place in the team competition.
More than 40 executives from 16 companies were on hand to judge the event and interact with the participants.
"The 2012 National Sales Challenge was the most the competitive by far," says P.K. Kothandaraman, executive director the Russ Berrie Institute for Professional Sales, noting that the event attracted 63 students, 32 faculty coaches, and 50 alternates and ambassadors. "Executives who have been regulars at the sales challenge were extremely impressed with the talent of this year's students. It is a tribute to our own Pete Malvasi's hard work and the training he received in our sales program that he placed fourth in the role-play competition and fifth in the speed-sell competition."
The competition was created by the Russ Berrie Institute to strengthen the students' sales skills and offer them an opportunity to network with business executives from companies around the country who judge the events and serve as sponsors. Participants competed in a sales-role play event, which used a selling situation from sponsor ADP, and a speed-selling competition, which required students to rotate through tables seated with company executives to pitch themselves for two minutes for a generic job; the top six speed-sellers competed in a final championship round on the last day. The sales challenge also featured "table-talk," where students in small groups interacted with executives to discuss topics central to the sales profession.
11/20/12