Nobel Laureate Sir Harold Kroto to Address 8th Annual Undergraduate Research Symposium in the Biological And Chemical Sciences on Saturday, April 12
Undergraduate students and faculty from colleges throughout New Jersey, New York, Connecticut, and Pennsylvania will present their research during the event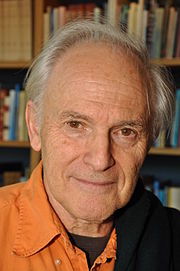 Nobel Laureate Sir Harold Kroto
More than one hundred undergraduate students and faculty from colleges throughout New Jersey, New York, Connecticut, and Pennsylvania will present their research during the 8th Annual Undergraduate Research Symposium at William Paterson University in Wayne on Saturday, April 12 from 9 a.m. to 5 p.m. Admission is free.
Nobel Laureate Sir Harold Kroto, the Francis Eppes Professor of Chemistry and Biochemistry at Florida State University, will give the plenary talk, "Creativité Sans Frontières." Kroto shared the 1996 Nobel Prize in Chemistry with Richard E. Smalley and Robert F. Curl., Jr. for their joint discovery of carbon compounds called fullerenes.
The symposium, sponsored by the University's College of Science and Health, includes morning and afternoon poster sessions from 9:30 to 11:30 a.m. and 2:00 to 4:00 p.m. in the University Commons. Posters will display student research in biochemistry, physiology, cell and molecular biology, genetics, ecology and evolution, environmental science, nanochemistry, and general and materials chemistry. The entries will be judged and awards will be presented to the best undergraduate poster presenters in a ceremony at 4:45 p.m. in the University Commons Ballroom.
"One of the strategic directions of the College of Science and Health at William Paterson University is to increase the number of undergraduate students doing research with faculty," says Jaishri Menon, professor of biology at William Paterson and coordinator of the symposium. "This event provides an important forum for our students, as well as students from other institutions, to present their research while interacting with other student researchers as they celebrate their educational accomplishments."
Kroto is a Fellow of the Royal Society of London and served as president of the Royal Society of Chemistry from 2002 to 2004. He has received numerous awards such as the Hewlett Packard Europhysics Prize (shared 1994), the Copley Medal (2004) and the Faraday Award (2001). He holds honorary degrees from academic institutions around the world. Kroto joined the faculty at Florida State University in 2004 and is a professor emeritus at the University of Sussex in England where he taught from 1967 to 2004. He holds a PhD in chemistry from the University of Sheffield in Great Britain.
# # #
03/26/14