Financial Planning Students Place Third in 2013 National Industry Issues Competition
Students Linda Hoxha and Ania Lamparska were one of three finalist teams competing in Tucson, Arizona on January 28.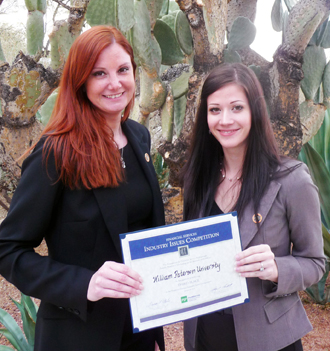 Photo: Ania Lamparska (left) and Linda Hoxha (right)
William Paterson financial planning students Linda Hoxha and Ania Lamparska have placed third in the 2013 Financial Service Professionals National Industry Issues Competition held in Tucson, Arizona, on January 28.
The team was one of three university teams selected as finalists; also competing are teams from Texas Tech University and the University of Missouri, St. Louis. This is the second year in a row that a team from the University has been selected as finalists in the competition.
The pair was invited to participate in the competition, sponsored by the Society of Financial Service Professionals, based on a paper they submitted on this year's topic, which focused on Best Practices in Identifying and Evaluating Specific Careers in the Financial Services Profession. The three finalist teams were selected by a panel of financial professionals to travel to Arizona to make an oral presentation before a panel of judges drawn from attendees at the society's Arizona Institute. The students received $2,000 in scholarship money for the University based on their combined paper and oral presentation.
Since 2010, students from the University's financial planning program have garnered top awards in national competitions, including second in the 2012 National Association of Government Defined Contribution Administrators Retirement Quiz Bowl, third in the 2012 Financial Service Professionals National Industry Issues Competition (and first in the oral presentation), tied for second in the 2011 National Financial Planning challenge, and first in the 2010 National Financial Planning Challenge.
"We are so proud of the students who have worked so hard to bring recognition to the University and to the financial planning program," says Lukas Dean, assistant professor of economics, finance and global business and director of the program. "Our students take these competitions personally as a challenge to show their skills and the William Paterson work ethic."
In 2012, the program was recently rated among the top ten financial planning programs in the United States by Financial Planning Magazine. Other schools in the list include Texas Tech University, Virginia Tech, Georgia Tech, Kansas State University, and Boston University.
01/23/13