University Professor Elected to New Jersey Council for the Humanities
Rosa E. Soto, assistant professor of English and Latin American and Latino studies, and project coordinator of the Race and Gender Project, has been elected to the board of directors of the New Jersey Council for the Humanities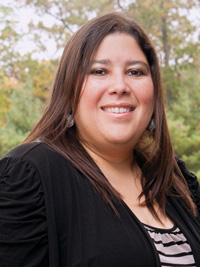 Rosa E. Soto
Rosa E. Soto, assistant professor of English and Latin American and Latino studies, and project coordinator of the University's Race and Gender Project, has been elected to the board of directors of the New Jersey Council for the Humanities for a three-year term. She is the first person from William Paterson University to be elected to this body.

"My task is to be an ambassador of the humanities for the council," Soto says. "I will work to support and strengthen the humanities in New Jersey through serving on committees, attending programs throughout the state, and evaluating grant applications, among other responsibilities."

"The College of Humanities and Social Sciences is delighted that Dr. Soto has been selected for this honor," says Kara Rabbitt, dean of the College of Humanities and Social Sciences. "Her election to the executive board recognizes her consistent efforts in developing innovative programming and quality curriculum for William Paterson University's Race and Gender Project, Latin American and Latino Studies program, and English department. The Council does wonderful work in promoting and supporting humanities across the state and we are proud to have our faculty active in its efforts."

Soto has been on the University's faculty for seven years. She holds a doctorate from the University of Florida, a master's degree from the University of Toledo, and a bachelor's degree from Florida State University.

The New Jersey Council for the Humanities (NJCH), a nonprofit organization, was established in 1972 as the state partner of the National Endowment for the Humanities. Its programs are free and open to the public. A twenty-five-member board of trustees, drawn from academia, business, and public life, oversees its work.

The mission of the NJCH is to develop, support, and promote projects that explore and interpret the human experience, foster cross-cultural understanding, and engage people in dialogue about matters of individual choice and public responsibility.
10/15/12