More than a Quarter Million Dollars in Support of Scholarships Raised at William Paterson University 27th Annual Legacy Award Gala
--Honorees included Distinguished Alumna Blair Schleicher Bravo '95, Distinguished Friend John Galandak, and Distinguished Corporation Toys"R"Us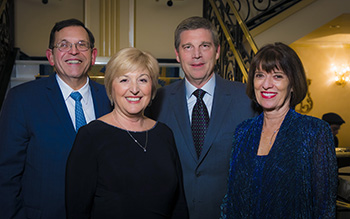 Kathleen Waldron (right) with honorees (from left) John Galandak,
Blair Schleicher Bravo '95, and Dave Brandon
William Paterson University's Foundation raised more than a quarter million dollars in support of scholarships at its 27th annual Legacy Award Gala held on Thursday, April 20, 2017 at The Grove in Cedar Grove. The gala is the Foundation's largest event to raise funds to support the University's mission of promoting student success and academic excellence.
Alumna Blair Schleicher Bravo '95, chief executive officer of Morris Habitat for Humanity; John Galandak, president emeritus of the Commerce and Industry Association of NJ (CIANJ); and Toys"R"Us were honored for philanthropy, leadership, and community service.
"Support for the Legacy Award Gala demonstrates our commitment to raising funds that enable our students to succeed," says Kathleen Waldron, University president. "All proceeds directly benefit student scholarships."
"Blair Schleicher Bravo, John Galandak, and Toys"R"Us have all made a significant impact on the William Paterson University community," says Pamela Ferguson, vice president for institutional advancement. "On behalf of the entire University community, I thank them for their partnership, leadership, and friendship."
"A scholarship can be the critical difference in helping a student achieve his or her academic goals and fully access the excellent education that William Paterson University provides," adds Aaron Van Duyne III '75, MA '08, chair of the William Paterson University Foundation.
Schleicher Bravo '95, chief executive officer of Morris Habitat for Humanity, Randolph, NJ, was honored as a Distinguished Alumna. Through her tenure of more than 13 years with Habitat for Humanity, she developed and implemented strategic business plans leading to substantial revenue and program growth. She grew the organization tenfold, working with over 12,000 volunteer visits annually to directly help 30 to 60 families a year through new, rehab and repair programs, and growing ReStore with annual revenues of $1.8 million.
Schleicher Bravo has more than 20 years' experience in the affordable housing sector and serves as a board member of several housing organizations. Her work in the nonprofit housing sector has been recognized by numerous organizations and businesses, including the Distinguished Service Award from the NJ Builder's Association and the Brava Award from SmartCEO Magazine. Schleicher Bravo also serves on the Dean's Advisory Council for the College of Humanities and Social Sciences at William Paterson. Active in her community, she is a former four-term council member in Mountain Lakes, having served two terms as mayor and as deputy mayor. She earned a BA in liberal studies - social sciences from William Paterson University.
John Galandak, president emeritus of the Commerce and Industry Association of New Jersey (CIANJ) and a member of the William Paterson University Board of Trustees, was honored as a Distinguished Friend. He has been a member of the University's Board of Trustees since 2015, serving on the educational policy and student development and personnel and compensation committees, as well as the representative to the Auxiliary Services Organization. Previously, he was president of CIANJ and publisher/CEO of Commerce Magazine/Commerce Enterprises, Inc., the Association's media arm. CIANJ is a statewide business advocacy organization representing members from virtually every business sector in the state, with offices in Paramus and Trenton.
Galandak represents the business community regarding public policy issues. He served on the Subcommittee on Economic Development and Job Growth of Governor Christie's Transition Team, and often testifies before state legislative committees regarding pending legislation. As president of CIANJ, he appeared on television and radio programs focusing on business issues and the economy. Galandak was appointed by Governor Christie and continues to serve as a member of the Red Tape Review Commission which works to reduce or eliminate unnecessary regulations that negatively impact New Jersey's business climate.
He has always recognized the critical impact that education has on people's lives and their ability to realize their full potential. Galandak served for more than 10 years as a member of the Board of Education in his hometown in Sussex County. Galandak earned both a BA and MS degree from Rutgers University.
David A. Brandon, chairman and CEO, Toys"R"Us, Inc., accepted the award for Toys"R"Us, Inc., which was honored as Distinguished Corporation. Toys"R"Us, Inc. is the world's leading dedicated toy and baby products retailer, offering a differentiated shopping experience through its family of brands. Merchandise is sold in 885 Toys"R"Us and Babies"R"Us stores in the United States, Puerto Rico and Guam, and in 795 international stores and 259 licensed stores in 37 countries and jurisdictions. With its strong portfolio of e-commerce sites including Toysrus.com and Babiesrus.com, the company provides shoppers with a broad online selection of distinctive toy and baby products. Toys"R"Us, Inc. is headquartered in Wayne, NJ, and has an annual workforce of approximately 62,000 employees worldwide. The company is committed to serving its communities as a caring and reputable neighbor through programs dedicated to keeping kids safe and helping them in times of need.
William Paterson University is a leading public university in New Jersey with nearly 11,000 students enrolled in undergraduate and graduate academic programs offered by five academic colleges: Arts and Communication, Cotsakos College of Business, Education, Humanities and Social Sciences, and Science and Health. Located on 370 hilltop acres in Wayne, the university offers a wide range of learning opportunities in its classrooms, laboratories and studios, and provides housing for nearly 2,700 students. The institution's 410 full-time faculty are highly distinguished and diverse scholars and teachers, including 41 Fulbright scholars and recipients of numerous other awards, grants, and fellowships. The institution's more than 74,000 alumni can be found throughout New Jersey, the nation, and the world.
04/21/17