Fourth Annual Cross-Cultural Arts Festival At William Paterson University Focuses On Asian Art And Culture In March And April
--Six-week festival of food, performances, art, music, and martial arts is inspired by Korean, Japanese, and Chinese culture.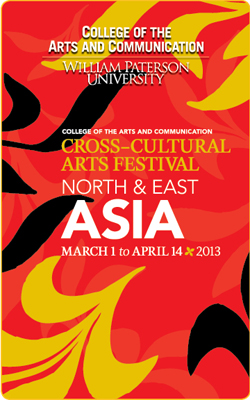 The fourth annual William Paterson University Cross-Cultural Art Festival will celebrate the Asian cultures of Korea, Japan, and China on campus in Wayne from March 1 to April 13. In addition to performances of music, dance and martial arts from the diverse cultures of North and East Asia, the six-week festival includes panel discussions, dramatic presentations, a film series, art exhibitions and an art demonstration.
"The Cross-Cultural Arts Festival: North and East Asia" will emphasize the University's mission to encourage diversity, community outreach, and multiculturalism. It also seeks to feature the impact of the fine arts, music and cinema in facilitating cross-cultural empathy and developing global connections. All events are open to the public.
Highlights of the festival include a March 1 program dedicated to the authentic cuisine of Korea, China and Japan; highly anticipated performances by the Golden Dragon Acrobats on March 8, the Toshiko Akiyoshi-Lew Tabackin Quartet on March 10, the Ying Quartet on March 14 at 7 p.m., a flowers and drums performance on April 4, and a showcase of Korean music and dance on April 5. For tickets to these performances visit www.wp-presents.org or call the University's Shea Center Box Office at 973.720.2371.
The festival opens on Friday, March 1 with a special, reservation-only dinner event. "Before the Iron Chef: Asian Food, Culture, and Identity" will explore the food in the cultures of Korea, China and Japan. The event begins at 6:30 p.m. in the Shea Center for Performing Arts. Admission is $20 general and reservations are mandatory.
The Golden Dragon Acrobats, recognized as the only Chinese acrobatic company touring the United States year-round, present their show, Cirque Ziva, on March 8 at 8 p.m. in Shea Center. The cast includes athletes, actors, and artists who present a show that combines award-winning acrobatics, traditional dance, spectacular costumes, ancient and contemporary music and theatrical technique. Tickets are $30 adults, $25 children and $10 William Paterson students.
The Toshiko Akiyoshi-Lew Tabackin Quartet will perform in Shea Center on March 10 at 4 p.m. as part of the festival and the University's acclaimed Jazz Room Series. Toshiko Akiyoshi, an accomplished pianist, composer, and arranger, and her husband Lew Tabackin, a virtuoso saxophonist and flutist, will be joined by Paul Gill on bass, and Aaron Kimmel on drums. Tickets are $15 general; $12 senior citizens, William Paterson faculty, staff and alumni; and $8 for non-William Paterson students. William Paterson students may attend free of charge with valid ID. Prior to the concert, Akiyoshi and Tabackin will be the guests for "Sittin' In," an informal discussion about jazz, at 3 p.m. in Shea Center. Admission is free to all Jazz Room ticket holders.
The Ying Quartet, the quartet-in-residence at the Eastman School of Music, will present a "Dim Sum," or sample of savory musical offerings, during a performance on March 14 at 7 p.m. in Shea Center. The Grammy Award-nominated ensemble, which has performed in the world's most prominent concert halls, is known for giving their music a distinctive Asian flavor, incorporating traditional Chinese elements into their performances. The quartet will conduct a lecture demonstration prior to their concert. Tickets are $15 adults, $13 seniors and $10 students. The Ying Quartet will also present a lecture and demonstration at 12:30 p.m. in Shea Center; admission is free.
Japanese Flowers and Drums: Ikebana and Taiko, will be presented on April 4 at 12:30 p.m. on the Shea Center Plaza. The event brings together the Japanese style of drumming known as Taiko, performed by Marco Lienhard, with the Japanese art form of Ichiyo Ikebana, with Anna Nakada. Admission is free.
Sounds of Korea, the premier performance group of Korean traditional arts in the U.S., presents a program of traditional Korean music and dance on April 5 at 8 p.m. in Shea Center. Sounds of Korea consists of a dance troupe, founded and directed by Sue Yeon Park, noted master artist and recent recipient of the NEA National Fellowship Heritage Award, as well as an instrumental chamber ensemble, and a percussion ensemble. Sounds of Korea presents a variety of styles and settings, and showcases beautifully crafted instruments and colorful costumes. This performance will feature the "Fan Dance" and "Drums of Ecstasy." Tickets are $15 adults, $13 seniors $10 students.
"A Thousand Cranes," by Kathryn Schultz Miller, about a girl struck by leukemia ten years after the bombing of Hiroshima, will be staged in the University's Hunziker Black Box Theatre from March 5 to 10. Tickets are $14 general, $10 students, senior citizens and William Paterson faculty, staff and alumni.
The University Galleries will present two exhibitions in conjunction with the festival. "A Woman's View: New Chinese Art," curated by Zhang He, William Paterson associate professor of art and Kristen Evangelista, director of the University Galleries, presents works by contemporary Chinese women artists. "Play Ink, Ink Play: Chinese Opera Painting, organized by Shanghai Liu Haisu Art Museum, gives visual form to the performers, instruments and music of Chinese opera. An opening reception will be held on March 3 from 2 to 4 p.m. in the University Galleries; the exhibitions continue through April 12.
Traditional Japanse, Chinese and Okinawan martial arts will be performed by members of the Asian Arts Center on April 13 in Wightman Gym on campus. Okinawan Goju-ryu, Chinese White Crane king-fu, and Tai Chi Ch'uan will be among the martial arts on display. Admission is $5 general.
A series of Korean movies with English subtitles will be screened from April 1 to 4 in the Cheng Library. Films include Scandal Makers on April 1 at 4 p.m. and April 4 at 12:30 p.m., The King and the Clown on April 2 at 2 p.m. and 4:30 p.m., Hangeul Becomes an Art on April 3 at 2 p.m., and Hanbok, also on April 3, at 4 p.m. Admission is free.
A poetry contest for middle and high school students, sponsored by the College of Education, will be held in conjunction with the festival. Entries of original, unpublished poetry on topics related to the theme of the festival, will be accepted. An awards ceremony and public recitation will be held on Tuesday, April 23 at 3 p.m. in the 1600 Valley Road building. For information, contact Carrie Hong, assistant professor of educational leadership and professional studies, at honge1@wpunj.edu or 973-720-2130.
Throughout the festival, panel discussions will be held to reflect on Asian and Asian-American identities and themes. Faculty members will convene to discuss topics relevant to the history, culture, art and identity throughout Asia, with a special focus on the Northern and Eastern areas and the national traditions of China, Japan and Korea. The festival's opening reception and first panel discussion will be on March 7, from 12:45-1:45 p.m. in Ballroom C of the University Commons.
For information about ticketed events, please visit www.wp-presents.org or call the Shea Center Box Office 973-720-2371. For information about the University Galleries, please visit www.wpunj.edu/coac/gallery/ or call 973-720-2654.
02/22/13